Honkai: Star Rail Argenti Leaks, Possible Release Date Window, Abilities, Kit, and More for the New Character
Adding medieval flavor to Honkai: Star Rail's sci-fi story.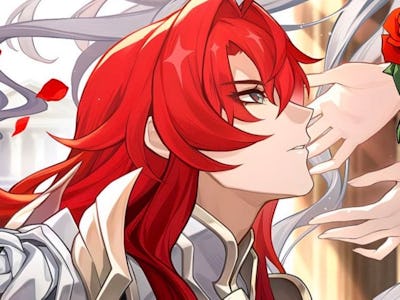 HoYoverse
Honkai: Star Rail version 1.4 only just launched, giving players access to Jingliu, but many are already looking forward to the future. Like Genshin Impact, the leaks for Honkai: Star Rail come fast and often for every upcoming patch to the game. One leaked, and now officially confirmed, character players are eager to learn more about is Argenti. Here's everything we know about the mysterious knight in shining armor.
When Does Argenti Come to Honkai: Star Rail?
While HoYoverse officially revealed Argenti in September, there is no word on when the knight will be coming to Honkai: Star Rail. However, it seems most likely he will be introduced during version 1.5 of the game.
Currently, version 1.4 is set to run until October 27, so we should hear more information on version 1.5 and Argenti before then in the form of a Special Program.
What Are Argenti's Abilities in Honkai: Star Rail?
We do know that Argenti will be a five-star Physical Erudition character, though the details of his abilities have not been officially revealed by HoYoverse. That doesn't mean we don't know what his abilities will be though, as the HoYoverse leak community already has plenty of information on what players should expect from Argenti.
These are Argenti's abilities according to the latest leaks (though as always, take them with a grain of salt):
Basic ATK: Fleeting Fragrance – Deals Physical DMG equal to 130% of Argenti's ATK to a single enemy.
Skill: Justice, Hereby Blooms – Deals Physical DMG equal to 137.5% of Argenti's ATK to all enemies.
Talent: Sublime Object – When Argenti uses his Basic ATK, Skill, or Ultimate, every enemy hit will regenerate Argenti's Energy by 3, grant him a stack of Ascend, as well as increase his CRIT Rate by 3.25%. This effect can stack up to 10 times.
Technique: Manifesto of Purest Virtue – After using this Technique, enemies in a set area are inflicted with Daze for 10 seconds. Dazed enemies will not actively attack your team. When initiating combat against a Dazed enemy, deals Physical DMG to all enemies equal to 80% of Argenti's ATK and regenerates his Energy by 15.
Ultimate #1: For In This Garden Supreme Beauty Bestows – Consumes 90 Energy and deals Physical DMG equal to 204% of Argenti's ATK to all enemies
Ultimate #2: Merit Bestowed in My Garden – Consumes 180 Energy and deals Physical DMG equal to 336% of Argenti's ATK to all enemies, and further deals DMG 6 extra times, with each time dealing Physical DMG equal to 114% of Argenti's ATK to a random enemy.
What Is Argenti's Backstory in Honkai: Star Rail?
What little we know about Argenti comes from the official announcement of the character. Here is what the reveal post says about Argenti:
A classic knight of the Knights of Beauty. Forthright and candid, this noble and admirable man wanders the cosmos alone, resolutely following the Path of Beauty. Upholding the good name of Beauty is Argenti's duty. To fulfill this responsibility, one must be pious when one initiates battle, and one must make their opponent yield willingly when one strikes with one's spear.
Argenti's role as an almost cartoonish recreation of a traditional knight is an interesting addition to the mostly science-fiction world of Honkai: Star Rail. We know that the Knights of Beauty worship the fallen Aeon Idrilla, though the organization has allegedly fallen apart since Idrilla's demise (which many of the Knights of Beauty refuse to believe).
What role Argenti has to play in the story of the Trailblazer remains to be seen, but as the fate of the Aeons is a central issue Honkai: Star Rail keeps returning to, he could have a big part to play.
Honkai: Star Rail is currently available on PC, iOS, Android, and PS5