Genshin Impact 4.0 Release Date and Time, Maintenance Schedule, Banners, and Rewards
It's time to dive into Fontaine's watery wonders.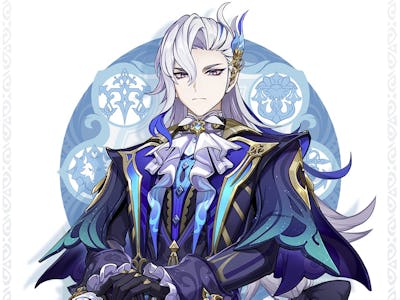 HoYoverse
Say goodbye to Sumeru and hello to Fontaine. After months of leaks and official teases, players are only a few hours away from launching into the newest region in Genshin Impact with the release of version 4.0. We know plenty about what Fontaine has in store for the Traveler, including what banners you'll be able to wish on and new quests to undertake thanks to the version 4.0 special program, but when will you get to dive in?
Here's exactly when you can play Genshin Impact version 4.0 and everything else you need to know from preload details to maintenance rewards.
When Is the Genshin Impact Version 4.0 Release Time?
Genshin Impact version 4.0 officially releases on Wednesday, August 16, though exactly when depends on your time zone. Below are the estimated release times for version 4.0 across the globe, though they are subject to change depending on how long update maintenance takes.
US (West Coast): August 15, 8 p.m. PDT
US (East Coast): August 15, 11 p.m. EDT
UK: August 16, 4 a.m. BST
Europe: August 16, 5 a.m. CEST
Australia: August 16, 1 p.m. AEST
Japan: August 16, 12 p.m. JST
What Are the Genshin Impact Version 4.0 Maintenance Rewards?
Per an official HoYoverse blog post, maintenance for Genshin Impact 4.0 will last five hours. Maintenance is scheduled to begin at 06:00 (UTC+8) on August 16. As compensation for the lengthy maintenance, HoYoverse will be compensating players with 300 Primogems. Though to be eligible to receive the free Primogems, Travelers must have reached Adventure Rank 5.
Players should receive their 300 Primogems via in-game mail within five hours after the update maintenance is finished. Make sure to claim your compensation within 30 days or your mail will expire.
Can You Pre-Load the Genshin Impact Version 4.0 Update?
You sure can. Pre-loading Genshin Impact Version 4.0 means that you can dive into the latest content sooner on launch day. You still need to download the last of the files after maintenance ends, but the download time will be significantly quicker than it would be if you hadn't pre-loaded Version 4.0.
Here's how to download Genshin Impact 4.0 on your platform of choice.
Preload on PC
You can pre-load Genshin Impact 4.0 straight from the launcher on PC. A cloud icon labeled "Game Pre-Installation" appears next to the Launch button when the pre-installation package is available. Click the icon to start the pre-installation process. It should alert you when the process finishes.
If you don't have the launcher downloaded for whatever reason, you can redownload the latest version from the Genshin Impact official website. Just select the Windows option on the home page, as if you're downloading the game all over again. It will download the latest launcher.
Preload on mobile
HoYoverse offers two ways to pre-load Genshin Impact 4.0 on mobile. You can either:
Boot up the game and click the cloud icon in the lower lefthand corner. That way, you don't need to enter the game to pre-install Genshin Impact 4.0.
Open the settings menu from the gear icon on your Paimon dashboard. Then, go to the options tab and look for the Pre-Install Resource Package section. Click the prompt to "Pre-Install Now."
Preload on PS4 and PS5
Many longtime Genshin Impact console players know the drill. HoYoverse has yet to implement a Genshin Impact PlayStation pre-installation function, so you will need to manually update Genshin Impact after the 4.0 update goes live between 10 and 11 p.m. Eastern.
Here's how to install the Genshin Impact 4.0 update on PlayStation:
Scroll over the Genshin Impact icon in your PlayStation library.
Press the Options button on your controller over the icon.
Select the Search for Update option. It should allow you to install Genshin Impact 4.0 if it's available.
Keep checking for the update if it doesn't appear right away.
Genshin Impact is currently available on PC, iOS, Android, and PlayStation.