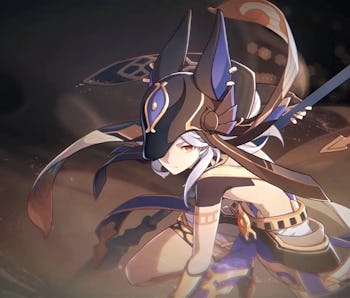 Inverse Codex
Everything you need to know about Genshin Impact Version 3.0
HoYoverse
Genshin Impact is ready for its next big jump. Sign-ups for the Genshin Impact 3.0 beta just started, which means that the nation of Sumeru and its Archon isn't too far away. Changing the foremost digit in the update number typically signals major additions to come, including new characters, plotlines, events, and other exciting content that progresses the Traveler's quest to find their sibling. Even better, the next chapter is also expected to introduce the Dendro element.
Here's what we know so far about the Genshin Impact version 3.0
When is the Genshin Impact Version 3.0 release date?
Genshin Impact 3.0 doesn't have a confirmed release date yet. However, based on HoYoverse's steady six-week schedule, it should arrive on August 24, 2022.
HoYoverse is rarely late, which is why the Genshin Impact 2.7 delay was such a big deal when it happened. It typically releases a new update every six weeks. Genshin Impact 2.8 launches on July 13, 2022, so Genshin Impact 3.0 would theoretically arrive six weeks after that.
Will there be a new region in the Genshin Impact 3.0 update?
Sumeru is expected to emerge as the next new region in the Genshin Impact storyline. As per the Teyvat storyline trailer (warning: spoilers), Sumeru comes after Inazuma. Yae Miko spoke to the Traveler about it as a possible destination after the latest Archon Quest (not counting the Interlude), and it's been hinted at several times in the past few updates through events. Even the Marvelous Merchandise salesman mentioned traveling from Sumeru and the troubles he had in his return to Mondstadt.
What's after Sumeru? Fontaine, Natlan, and Snezhnaya in that order. One nation for each of the seven elements. We already have one for Anemo (Mondstadt), Geo (Liyue), Electro (Inazuma), and Dendro (Sumeru). That's far in the future, though, considering Genshin Impact 3.0 isn't even out yet.
What happened to Genshin Impact version 2.9?
Genshin Impact versions 2.1 to 2.8 imply a Genshin Impact 2.9. However, this isn't actually the case. HoYoverse jumped from Genshin Impact 1.6 all the way to Genshin Impact 2.0 with the release of Inazuma. The foremost number typically changes with the introduction of a new region. So, like with that scenario, Genshin Impact version 3.0 is expected to introduce Inazuma and a new version number.
There doesn't seem to be a Genshin Impact 2.9 planned at this time. Likewise, there was never a Genshin Impact version 1.7, 1.8, or 1.9.
How can I apply for the Genshin Impact version 3.0 beta?
Zeniet, known for Genshin Impact leaks and information, recently shared that HoYoverse is recruiting for the Genshin Impact version 3.0 beta. You have to be a part of the official Genshin Impact Discord server, which is unfortunately full. Sure, you can try using the beta sign-up form, but it's only supposed to work if you're a member of the OG server. HoYoverse made a second Discord server after the first one filled up, but it's not the same.
What are the Genshin Impact version 3.0 character banners?
The Genshin Impact 3.0 banners are still mostly a mystery. There are a few names floating around like a Hydro polearm user named Cyno and a four-star Dendro bow user named Collei. The leak-friendly Wangsheng Funeral Parlor Discord (moderated by Ubatcha and other reputable leakers) lists even more in its channels. Note that the full list of possible characters was in the "sussy leaks" channel, which advises that readers take these leaks with a "HUGE grain of salt."
Leakers generally agree that our first Dendro characters are coming in the Genshin Impact 3.0 update. One of these could be Baizhu, who's been rumored to be a five-star Dendro user for the longest time, or even the Dendro Archon. We'll have to wait and see.
What quests can I expect in the Genshin Impact 3.0 update?
Genshin Impact 3.0 will likely introduce a new Archon Quest involving the Dendro Archon and the Traveler's continuing search for their sibling. "Truth Amongst the Pages of the Purana," a.k.a. Archon Quest Act III, features the God of Wisdom.
We don't know much about what the story will entail, but here's the mysterious message from the Teyvat storyline trailer:
The God of Wisdom's enemy is wisdom itself, and the oasis of knowledge is a mirage in the desert of ignorance. In the city of scholars, there is a push for folly yet the God of Wisdom makes no argument against it.