How to redeem Genshin Impact codes in-game for excellent rewards
Every little bit helps, so why not score some free Primogems?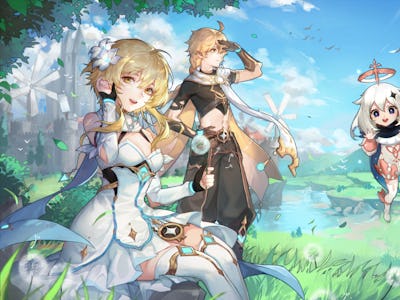 You can never have enough Primogems. These invaluable little starpieces are what you need to gamble for your favorite Genshin Impact characters and generally make your in-game experience a little smoother. Many of us hoard them for the hottest five-stars of the latest update, but it's perfectly reasonable to save up for the one character that got away or blow them on resin. The choice is yours. Here's everything you need to know about claiming Primogem rewards, where to find them, and all the usable Genshin Impact redemption codes as of May 2022.
How to redeem Primogem codes on PC and mobile
Genshin Impact has used the same form for redeeming codes since its start. If you stay logged in, then the page will automatically populate with your server region and character name each time you visit. At that point, all you have to do is plug in the gift codes and bookmark the page for future use. Note that you need a HoYoverse account to claim your rewards.
How to redeem Primogem codes on PS4 and PS5
The Genshin Impact Redemption Code page used to be the all-in-one stop for Primogem rewards. However, it barred console players from claiming the same rewards as their PC and mobile counterparts. Since then, HoYoverse has made it so that you can also redeem codes from a PlayStation 4 or PlayStation 5.
Here's how to redeem Genshin Impact Primogem codes from your PS4 or PS5:
Press the options button on your PlayStation controller to bring up your menu
Select the gear-shaped icon, located on the lower left side of the menu, to reach your Settings
In your settings, scroll down to the Account tab to find "redeem codes"
Simply press X to redeem a code
Where to find new Primogem codes
Primogem codes are limited-time distributions. If you spot a hot code one day, it might not work the next day. Or perhaps you just redeemed a Primogem code and you're hankering for a new batch? No matter what camp you're in, new Primogem codes are rather easy to obtain.
These are just a few places that you can check for Primogem codes:
HoYoverse Blog - Codes will sometimes be snuck into the tail ends of news posts. Even if there aren't Primogems waiting, some announcements direct players to significant amounts of Mora and other valuable materials.
Livestreams - Each Genshin Impact official livestream tucks 3 Primogem codes into its intermissions. These are available for roughly 24 hours before they become inactive.
Content Creators - HoYoverse sponsors content creators and sometimes offers them Primogem codes to treat their viewers. One of the latest examples is TGG, who included a code during their GTA commentary stream.
NVIDIA GeForce - Those with a NVIDIA GeForce account can claim a free Genshin Impact bundle including 20,000 Mora, 4 Mystic Enhancement Ores, and 2 Hero's Wit. It's only available for those with a GTX 10 graphics card or newer installed on their device, though.
Aggregate Sites - Some fansites have every Primogem code — past, present, and future — in their databases. However, many of them are expired.
Also keep an eye out for any Genshin Impact collabs on Twitter, Reddit, and media outlets. For example, Amazon-owned Prime Gaming used to offer free bundles to those with Amazon Prime accounts. This program isn't active anymore, but the NVIDIA GeForce one is. That one's likely not the last collab that HoYoverse will set up, either.
What Primogem codes are currently available
Primogem codes are few and far between. However, these few are still active as of May 2022.
MS7C3SV8DMZH: 60 Primogems, 5 Adventurer's Experience
GENSHINGIFT: 50 Primogems, 3 Hero's Wit
NVIDIA GeForce*: 20,000 Mora, 4 Mystic Enhancement Ores, 2 Hero's Wit
I wouldn't be surprised if the first code expired soon because it's from a content creator's recent stream. However, the "Genshin Gift" code has been a staple for new players since the game's release.
The NVIDIA bundle is available for a limited time — possibly only until the Genshin Impact 2.7 update. It promotes "Zephyr of the Violet Garden," which was the headliner event for Genshin Impact version 2.6. NVIDIA officially says that bundles are only available "while supplies last." However, as per my own experience, codes are still redeemable as of today. Each user gets a unique code, so it's not possible to share. Someone on the Genshin Impact Reddit will occasionally post a code they don't want, though.
What should you use Primogems on?
Save your Primogems for limited-time banners, especially characters. You can use Primogems for just about anything in Genshin Impact, but it's best to save them for characters or weapons that you have no other way of receiving. If the game's gacha out of luck, you'll especially need them.
Check the currently running banner to see if there are any rate-up characters that you'd like to add to your team. If there aren't, wait it out and save your gems for a few weeks. Primogems are difficult to obtain, make sure that you spend them on something you really want.
This article was originally published on