Honkai: Star Rail Version 1.4 Release Date, Jingliu and Topaz Banners, and Events
Faces old and new are the highlights of version 1.4.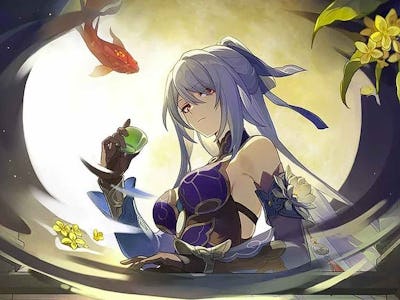 HoYoverse
Honkai: Star Rail's main story has been chugging along like the Astral Express since the game launched in April, culminating in some major plot revelations in version 1.3. It looks like players will finally get a break in version 1.4, which was revealed in detail during a special program livestream on September 29 from HoYoverse.
Version 1.4, titled "Jolted Awake From a Winter Dream" is just around the corner, and like past updates, it will bring new characters, new quests, and new limited-time events. Plus, it's the welcome return for one of the game's best DPS characters. Here's everything we know about Honkai: Star Rail version 1.4
What is the Release Date For Honkai: Star Rail 1.4?
Honkai: Star Rail 1.4 is set to release on Wednesday, October 11. This follows the pattern of Genshin Impact and previous Honkai: Star Rail updates, launching roughly every six weeks.
Maintenance for Star Rail typically begins at 6 a.m. Chinese Standard Time (UTC +8), which means the 1.4 update should go live on Wednesday, October 11 at 11 p.m. ET in the United States, due to the timezone difference.
Update 1.4 will also mark the release of Honkai: Star Rail on PlayStation 5.
Honkai: Star Rail 1.4 Character Banners
Star Rail's 1.4 banners will focus on Jingliu and Topaz, with two different phases focusing on each. A third new playable character, Guinaifen, will also debut with Topaz's banner.
Jingliu's Phase 1 banner should run from October 11 to November 1, and will introduce the named character alongside three boosted 4-Star characters. Here are all four characters:
Jingliu (5-Star, Ice, Destruction)
Sampo (4-Star, Wind, Nihility)
Tingyun (4-Star, Lightning, Harmony)
Qingque (4-Star, Quantum, Erudition)
Topaz's banner will run directly after Jingliu's from November 1 to whenever version 1.4 ends (approximately November 21), and again includes Topaz herself, Guinaifen, and two other characters.
Topaz (5-Star, Fire, Hunt)
Guinaifen (4-Star, Fire, Nihility)
Luka (4-Star, Physical, Nihility)
Sushang (4-Star, Physical, Hunt)
In addition, Seele's character banner will return for the first time since version 1.0. The banner will run during Phase 2 of version 1.4, from November 1 to November 21. The 5-star Quantum Hunt character is still one of Honkai: Star Rail's best damage dealers, so this is a welcome return.
All three 5-Star characters available during version 1.4 will also have Light Cone banners that players can use warps on. Jingliu's signature Light Cone "I Shall Be My Own Sword," Topaz's "Worrisome, Blissful," and Seele's "In the Night" will all run during the corresponding phase of each character banner.
What Quests Are Coming In Honkai: Star Rail 1.4?
The Honkai: Star Rail Version 1.4 Special Program, which you can watch above, revealed quite a bit about the new content players will be able to jump into.
First and foremost, there is a new companion mission to coincide with the release of Jingliu titled "Clouds Leave No Trace" which will continue the story of Dan Heng that took a wild turn at the end of version 1.3.
Additionally, version 1.4 will include something of an interlude mission to give the Trailblazer a break from the main story. The new mission will bring players back to Jarilo-VI, where players will be introduced to Topaz and explore two new areas: Old Weapons Testing Ground and Pillars of Creation.
What Events Will Come in Honkai: Star Rail 1.4?
Version 1.4 will introduce quite a few events, on top of a returning one. The first is "Gift of Odyssey," which will give players 10 Special Star Rail Passes for logging in seven days during version 1.4 (they don't have to be consecutive days!).
The Simulated Universe will get the "Planar Infinity" special event, which will bring additional challenges in the form of altered Blessings and Curios. After completing challenges, players will enter Herta's Manic Plain, which will act as the end boss for each floor. Completing the event will reward players with Stellar Jade, Tracks of Destiny, and Character and Light Cone EXP materials.
The main special event of version 1.4 will be "Aetherium Wars." The event acts as a Pokémon-like monster catching and battling game inside Honkai: Star Rail. By exploring different zones across the map and collecting various creatures, you will be able to battle in a tournament on Jarilo-VI. The reward for completing the Interastral Tournament Festival at the heart of "Aetherium Wars" is a free 4-star character of your choice: Serval, Pela, Luka, or Hook.
Honkai: Star Rail is currently available on PC, iOS, and Android. A PS5 version will launch on October 11.