Wonder Woman 1984 release date, delays, trailer, plot for the DCEU sequel
It's the '80s all over again in the next big screen adventure starring the famous DC superhero. Here's everything to know.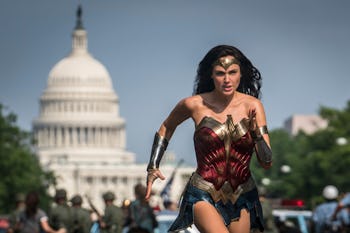 This article about the film Wonder Woman 1984 was originally published on November 19, 2020 and updated on January 1, 2022 following the movie's release. Read on for the original article, with some new changes to reflect the latest updates on this topic.
Three years after she crossed the trenches of No Man's Land, Wonder Woman returned to the big screen — and the small screen! — and step into a new era in Wonder Woman 1984 from director Patty Jenkins.
A sequel to 2017's Wonder Woman, Wonder Woman 1984 will drop its hero, played by a returning Gal Gadot, into the tail end of the Cold War. Pitted against wealthy TV magnate Maxwell Lord (Pedro Pascal) and an archaeologist turned warrior cheetah, Dr. Barbara Minerva (Kristen Wiig), Wonder Woman rides into action once more, this time in the era of shopping malls, break dancing, and big hair.
Here's everything to know about the blockbuster DC superhero movie, from the release date delays to plot details and official images.
When was Wonder Woman 1984 released?
Wonder Woman 1984 was released in theaters on Christmas Day, December 25, 2020. But that's not all. Due to the COVID-19 pandemic, Wonder Woman 1984 was also released on HBO Max on December 25, at no extra cost to HBO Max subscribers. The movie was available for a month on HBO Max, exclusively playing in theaters after that4.
The film was first scheduled to open in theaters way back in November 2019. But in October 2018, the movie was pushed to June 5, 2020. At the time, Gadot said the change was a good thing, calling the summer Wonder Woman's "rightful home."
However, the novel coronavirus pandemic pushed the movie further into the summer. In the early months of the pandemic, the film was delayed to August 14. As the pandemic dragged, Warner Bros. removed the movie from the 2020 calendar, temporarily leaving the movie without a proper release date.
On November 18, 2020, a full year after what would have been its original release date, Wonder Woman 1984 was confirmed to hit theaters and HBO Max on December 25. After one month, the movie will play exclusively in movie theaters before entering a traditional home video and VOD release, as well as a likely return to HBO Max.
Both Gal Gadot and director Patty Jenkins confirmed the Christmas Day 2020 release on social media. In a tweet, Jenkins encouraged viewers to see the movie in theaters "where it is made safe to do so" and to stream on HBO Max "where it is not."
"Happy holidays to all of you," Jenkins said. "We hope you enjoy our film as much as we enjoyed making it."
"It wasn't an easy decision and we never thought we'd have to hold onto the release for such a long time," Gadot said on Twitter, "but Covid rocked all of our worlds. We feel the movie has never been so relevant and we hope that it'll bring some joy, hope and love to your hearts."
Where can I watch the trailer for Wonder Woman 1984?
You can watch the trailer in the embed below.
What is Wonder Woman 1984 all about?
Picking up decades after 2017's Wonder Woman, Diana Prince (Gadot) finds herself in 1984. It was a time of material excess and the nuclear arms race between the United States and Russia, then known as the Soviet Union. Through the work of a wealthy TV entrepreneur, Maxwell Lord (Pedro Pascal), who carries a mystical item, Wonder Woman must stop his rise to power or else the world will be destroyed.
Wonder Woman, who represents humanity's love in the DC Universe, will be challenged to her core as she finds herself in a seemingly apocalyptic time. It was in 1983 when the Russians thought the US launched missiles towards Moscow, an incident later dubbed the "1983 Nuclear False Alarm." We were that close to nuclear war, so you can expect Diana will have much to say.
Who was cast in Wonder Woman 1984?
Gal Gadot returned as Diana Prince/Wonder Woman. Also starring in the movie are:
Pedro Pascal (Game of Thrones) as Maxwell Lord, an affluent personality who represents the wealth and excess of the American economy during the Reagan years.
Kristen Wiig (Saturday Night Live) as Dr. Barbara Ann Minerva, an archaeologist who befriends Diana but comes into contact with a mysterious power that may or may not turn her into a cheetah.
Chris Pine (Star Trek, Wonder Woman) as Steve Trevor, Diana's late lover who returns from the dead in Wonder Woman 1984. The circumstances of his return remain unknown, but there are some solid theories out there.
Robin Wright (House of Cards) as Antiope, Diana's aunt on Themyscira who returns in a flashback.
Connie Nielsen (Gladiator) as Hippolyta, Diana's mother on Themyscira.
Who was the villain of Wonder Woman 1984?
One of Wonder Woman's most famous enemies leaped onto the big screen. Kristen Wiig (Ghostbusters) turned to the dark side as Cheetah. Born Barbara Ann Minerva, the character is an archeologist and heiress to a vast fortune transformed into a half-beast, half-human monster.
Although Cheetah was created by Wonder Woman creator William Moulton Marston in the 1940s, Minerva's human ego was created by Len Wein and George Pérez, introduced in Wonder Woman #7 in 1987.
Is Wonder Woman 1984 in the DC cinematic universe?
Yes, Wonder Woman 1984 takes place in the DC cinematic universe. The film remains in continuity with movies like Man of Steel (2013), Batman v Superman: Dawn of Justice (2016), Suicide Squad (2016), Justice League (2017), Aquaman (2018), Shazam! (2019), and the newly released Birds of Prey.
What did critics have to say about Wonder Woman 1984?
Wonder Woman 1984 has a 58% rating on Rotten Tomatoes and a score of 60 on Metacritic. The reviews were mixed, with the escapist elements and Pascal's performance as Maxwell Lord receiving praise, while the return of Steve Trevor drew criticism.
Will there be a sequel to Wonder Woman 1984?
On December 27, 2020, two days after Wonder Woman 1984 debuted, its sequel was officially greenlit by Warner Bros. Patty Jenkins will return to direct, and Gal Gadot will once again play Diana. Additionally, Jenkins is helping develop a spin-off focusing on the Amazons of Themyscira that is meant to tie together the events of the upcoming film and Wonder Woman 1984.
Wonder Woman 1984 is currently streaming on HBO Max.
This article was originally published on