Who Is Cheetah? Why Kristen Wiig is Perfect for the 'Wonder Woman' Villain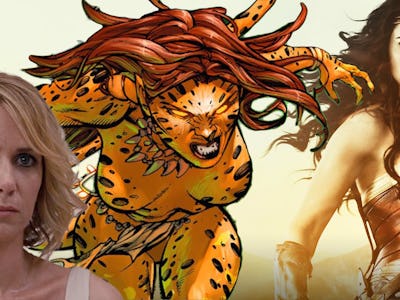 Warner Bros. / DC Comics
The Wonder Woman sequel, from director Patty Jenkins with Gal Gadot returning as the Amazonian goddess, has officially found its feral villain in actress Kristen Wiig. Wiig will play the cat-like villain Cheetah.
On Friday, Patty Jenkins announced via Twitter that Wiig was joining Wonder Woman 2 as the classic DC Comics villain Cheetah.
At face value, Wiig seems a bit of a weird choice. The former Saturday Night Live star tends towards more comedic roles than anything even remotely resembling a superpowered villain. She's perhaps best-known for starring in the recent all-female Ghostbusters reboot and in the wildly popular Bridesmaids (2011).
But Wiig also demonstrated serious acting chops in films like Mother!, Downsizing, and The Secret Life of Walter Mitty. Simply put, Wiig is an inherently watchable and totally charming actress with enough range to play just about any role.
That's exactly what any actress would need to accurately portray Cheetah.
In DC Comics, Dr. Barbara Minerva is a brilliant and fabulously wealthy British archaeologist who, while on an expedition to an African jungle, gets transformed into a cheetah goddess when a ritual goes awry — hence the name Cheetah. In some cases, Minerva is permanently stuck as a cheetah person; in others, she can freely transform in and out of the form. Cheetah comes into conflict with Wonder Woman when she covets the Lasso of Truth, but also because Minerva recklessly has no qualms with killing people to get what she wants.
In some cases, the ritual that transformed her Cheetah required a virgin, and because she didn't fulfill that particular requirement, she was cursed into consuming man flesh like some kind of were-cheetah. Yikes.
Rather than someone like Catwoman, who merely wears a feline-inspired costume, most iterations of Cheetah in DC Comics make her an actual humanoid-cheetah hybrid with superhuman speed, agility, strength, and senses. And because she's a goddess or demi-goddess, her powers are on par with Diana's.
But Minerva is also a brilliant schemer and trickster. If Wonder Woman is Thor, Cheetah is sort of her Loki.
Almost no official details have been confirmed regarding Wonder Woman 2's plot, but rumors suggest the movie will focus on the rivalry between Cheetah and Wonder Woman. But that could mean just about anything. DC Comics has years of conflict between the two characters to draw from, and we don't even know which version of Cheetah Wiig will be playing.
Previous reports also suggest the film will take place in the 1980s during the peak Cold War era, which makes us really want Wiig's Cheetah to be some kind of superpowered Russian spy.
Either way, we can't wait to see what Kristen Wiig does as Cheetah, because this is totally purrrfect casting.
Wonder Woman 2 is currently scheduled for release in theaters on November 1, 2019.
You've read that, now watch this: "How Psychology Created Wonder Woman"