Patty Jenkins Joins 'Wonder Woman 2,' Unavailable for 'Star Wars'
On the bright side: the 'Wonder Woman' sequel is gonna be killer.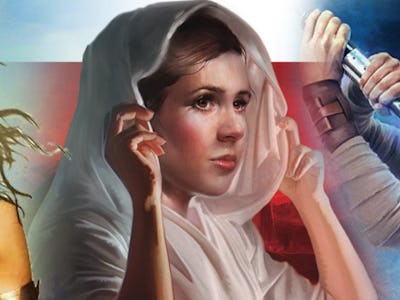 Starwars.com, Lucasfilm
Diana Prince beat out Rey, Finn, and Poe Dameron. Wonder Woman director Patty Jenkins has officially signed on to direct the film's highly anticipated sequel, as reported by Variety on Monday. The sequel's release date, December 13, 2019, puts its production in a war with the as-yet-unnamed Star Wars: Episode IX, which is anticipated to premiere on May 24, 2019.
This means Jenkins is out of the running to direct Episode IX. Not that Jenkins was ever officially in the running. Fans just really wanted her at the helm.
Slated Episode IX director Colin Trevorrow left Lucasfilm behind this past week, opening up a position at the top of the latest Star Wars trilogy's tower. Having a guiding hand in the final episode of the trilogy isn't a role to be taken lightly, and Jenkins has proved herself capable of surmounting impossibly high expectations. With as many internal issues as Lucasfilm seems to have had in recent months, reliability is key at this point.
But this fan-generated pipe dream is officially dead.
Fans called for Jenkins not only because of her success with Wonder Woman but because a lot of fans think Star Wars needs something more than a white dude director this time around. Considering that a lot of people are also calling for none other than George Lucas himself to direct the final episode in the trilogy, though, it seems name recognition might be considered more important at this point.
So, now that Jenkins is no longer an option, there's only one question remaining: Who are Rey's paren— er, I mean, who will direct Episode IX?
Star Wars: Episode IX is expected on May 24, 2019.
The Wonder Woman sequel is expected to premiere in theaters on December 13, 2019.