'Wonder Woman' Sequel Gets a Release Date: It's Maddeningly Far Away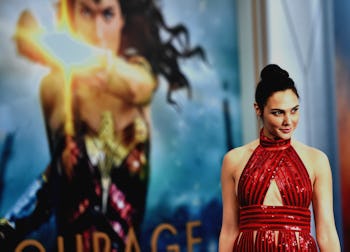 Getty Images / Frazer Harrison
Fans around the world have been dying to know when the sequel to Wonder Woman, the record-breaking summer blockbuster, will hit theaters. Finally we have an answer — but it's not exactly a relief. It's a whole two-and-a-half years away.
Warner Bros. has announced that the sequel will premiere on December 13, 2019.
We'll just have to get used to the fact that it will be another 29 months before we witness the next fight to save humanity from the lone blockbuster superhero preoccupied with both its physical and emotional destruction.
What do we know about the sequel so far?
Spoilers for Wonder Woman follow.
Rumors hold that the sequel will be another period film and will take place during the Cold War in the 1980s.
Both Wonder Woman director Patty Jenkins and lead actor Chris Pines have implied that Pines' character, Steve Trevor, could possibly appear. Obviously that's a bit strange, since Trevor died near the end of the first movie, so the most likely explanation is that Trevor will appear in a flashback.
Even if Trevor does come back in some fashion, Wonder Woman may find a new love interest, and if we're really lucky, it might even be another woman; that's what Gal Gadot (the actress who plays Diana) wants.
Diana's iconic invisible jet could make it into the sequel. At the very least, it will definitely be in one of the forthcoming movies in the series.
Although the sequel premiere is ages away, we may be able to look forward to other female-led superhero films in the meantime; Patty Jenkins has inspired a revolution.
The currently-untitled sequel to Wonder Woman will hit theaters on December 13, 2019.