'Wonder Woman' Director Implies Chris Pine Could Return in Sequel
by Monica Hunter-Hart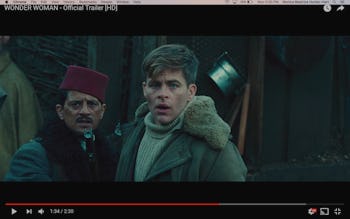 YouTube user: Warner Bros. Pictures
Patty Jenkins, director of Wonder Woman, is being awfully cagey about the fate of the film's non-superhero lead, Steve Trevor (played by Chris Pine). If you've seen the movie, you probably were left thinking that his destiny was pretty darn sealed. But that might not be the case, as Jenkins implied in an interview with Fandango published Monday.
Warning: Spoilers for Wonder Woman follow.
Near the end of the movie, Trevor sacrifices himself to stop the emission of poison gas pellets by exploding the plane that was carrying them, along with himself inside. This powerful moment impels Wonder Woman — also known as Diana — to call on every ounce of her strength to fight the antagonist Ares. His death helps enable her transformation into a hero mighty enough to beat the god of war; it's an extremely important plot point with a lot of emotional clout.
Still, the filmmakers might be prepared to walk it back.
When Jenkins was asked about the chance of Pine returning, she didn't deny that it was a possibility, and instead kept her response enigmatic, saying that "It's a big question," and "It's very hard to know which characters will be in the next movie because of the time period." She also noted that she didn't want to answer such a question in public.
Chris Pine is also open to the idea. Before the film's premiere, he told Fandango that he might be interested in coming back: "The movie's gotta come out, and then we'll see."
The ambiguity about Steve Trevor's fate is heightened by the fact that Pine originally signed a multi-picture deal with Warner Bros.
All of this probably just means that Trevor could appear in some flashbacks in the sequel. Maybe the flashbacks will even include some new footage, but that's probably the extent of it.
It would be a huge stretch to bring back the character in a different capacity; the audience sees his plane explode, for crying out loud. Plus, in the present-day ending of the film, Diana receives a picture of Trevor and says, "Thanks for bringing him back to me," indicating that she hasn't seen him since his death nearly a century before.
Let's face it: Bringing back Steve Trevor would undermine the power of Diana's emotional journey, and is overall just a very bad idea. The Wonder Woman filmmakers should focus on adding new and more important characters — like Jumpa, Diana's kangaroo cohort.
Wonder Woman is currently in theaters.