'Wonder Woman' Wins Highest Grossing Weekend for a Female Director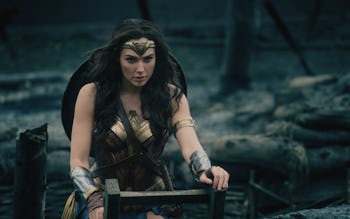 DC/Warner Bros.
Coming out of its opening weekend, Wonder Woman is a bonafide hit — in more ways than one. The highly anticipated film won the number one spot at the box office, bringing in $100.5 million domestically in 4,165 locations.
Combined with $122.5 million in earnings internationally from another 55 markets, Wonder Woman has achieved an impressive global opening of $223 million.
Directed by Patty Jenkins, the film also marks the biggest opening weekend ever for a female director. The record was previously held by Sam Taylor-Johnson for Fifty Shades of Grey, which earned $85.1 million in 2015.
Starring Gal Gadot as the sword-wielding princess of the Amazons, Wonder Woman is also the sixth biggest opener ever for the month of June, likely due in part to the film's warm reception from critics leading up to its debut. In fact critics and audiences appear to be tied in their adoration for the film, both awarding it an impressive 93 percent rating on Rotten Tomatoes.
This all goes to show that a female-centric superhero franchise can easily stand on its own — and then some. Compared to other superhero origin flicks, Wonder Woman is a clear audience favorite, surpassing the opening weekends of Guardians of the Galaxy, Iron Man, Thor and Captain America: The First Avenger.
Jenkins's last feature-length film was 2003's Monster, for which Charlize Theron won the Academy Award for portraying serial killer Aileen Wuornos.