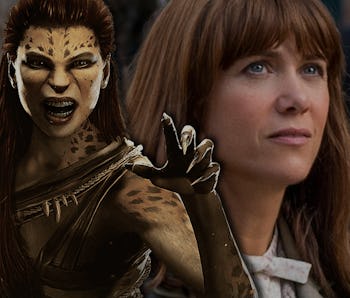 Entertainment
'Wonder Woman' Sequel Officially Has a Villain
Sony Pictures, NetheRealm Studios
Wonder Woman's greatest enemy is arriving for her sequel. In a tweet, Wonder Woman director Patty Jenkins officially confirmed the villain of the untitled 2019 sequel, who will be played by an unlikely but intriguing actress: Saturday Night Live star and comedian Kristen Wiig.
On Friday, Patty Jenkins confirmed rumors that Kristen Wiig has joined Wonder Woman 2 as the super-villain Cheetah. "So excited to confirm the most thrilling news. Yes! It's true!" Jenkins tweeted with a picture of Wiig from a 2011 Guardian photo shoot. "So incredibly lucky to welcome the sensationally talented Kristen Wigg to our Wonder Woman family. Can't wait to finally work with one of my favorites. And SO excited by what we have planned."
Jenkins confirmed Wiig's role in the tweet, with the hashtag "#Cheetah!!!"
Arguably the most famous enemy of Wonder Woman, Cheetah is an animalistic supervillain who was granted powers by the god Urzkartaga. Multiple people (including one guy) have carried the Cheetah mantle, including Priscilla Rich, Deborah Domaine, and Barbara Ann Minerva.
It's currently unknown which of the Cheetahs from DC history Wiig will play, but as common in film adaptations, Wii could play an amalgamation of all three. But all Cheetahs have a shared attribute among them, in that all Cheetahs are human heiress to a vast fortune. For various reasons, each of them takes up an interest in archaeology, which leads them to Urzkartaga, an ancient deity who endows individuals with the Cheetah powers.
Barbara Ann Minerva, the third person to become Cheetah, was also a member of Lex Luthor's Injustice League. The post-credits scene of Justice League hinted at the creation of the Injustice League, so it's a safe bet to expect Kristen Wii will stick around the DC movie universe even after Wonder Woman 2.
See Jenkins's tweet below.
Wonder Woman 2 will be released on November 1, 2019.