Why Lex Luthor and Deathstroke Are in the Post-Credits of 'Justice League'
Here cometh the Injustice League.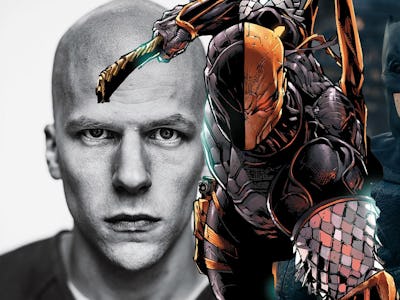 DC Comics, Warner Bros. Pictures
The Justice League has finally come together, but the DC Cinematic Universe is just getting started. In Justice League's final post-credit scene, we see what the team might go up against next, as an iconic Superman villain makes a triumphant return while another bad guy from Batman's comics makes his onscreen debut.
Spoilers for Justice League ahead.
Following The Flash and Superman's light-hearted race to see just who is the fastest man alive, the credits keep rolling before the scene changes to Lex Luthor's jail cell. When a prison guard tries to get Luthor to come out, Luthor turns around… and it's not Luthor. It's another bald man, laughing maniacally, ominously signaling that the Joker's probably involved somehow.
The scene cuts to a boat off some far-away coast, with the camera positioned in the back of someone's head. We see an armored figure wearing a helmet, two pieces of cloth waving in the wind, and a sword on his back. While your less-informed friends may be asking why Deadpool is there, true DC fans know who it is: It's Deathstroke, the deadliest assassin in the DC Universe who debuted in New Teen Titans in 1980 but quickly became a prominent villain of Batman.
But we're not done. Deathstroke hops onto the boat, and waiting for him there is Jesse Eisenberg, back as Lex Luthor, with a shaved head and dressed in a three-piece suit just as Lex Luthor is meant to look. After boarding, Deathstroke (played by Joe Manganiello), unmasks, revealing a hardened mercenary with an eyepatch. That's when Lex asks Deathstroke: "Shouldn't we have a league of our own?" Here cometh the Injustice League.
The Injustice League
For every superhero team, there is an equal and opposite supervillain ensemble. Though the Justice League have met a number of matches — hello, Crime Syndicate of America — the one Zack Snyder and Joss Whedon have set up for the DC cinematic universe are the Injustice League.
First assembled by the supervillain Agamemno, who used Lex Luthor as a way to reach out to other villains, the real Injustice League started with Lex Luthor and the Joker teaming up as "Injustice League Unlimited." It was so named by creator Dwayne McDuffie, also the writer on the Justice League Unlimited animated series that aired on Cartoon Network in the mid-2000s.
The incarnation of the Injustice League that Snyder and Whedon appear to be modeling is the New 52 roster, which was formed by Lex Luthor during the crossover series Forever Evil. Founded as an anti-hero squad to take down the Crime Syndicate, Lex Luthor's team composed of Deathstroke (Manganiello), Catwoman, Flash villain Captain Cold, Bizarro, Sinestro, Black Manta (played by Yahya Abdul-Mateen II in 2018's Aquaman), and Shazam/Captain Marvel's archenemy Black Adam who will be played by Dwayne Johnson. In the movies, though, only Deathstroke and Luthor, have been officially revealed, but Jared Leto's Joker is probably around.
While the DC cinematic's version of the Injustice League may look entirely different from the comics, one thing's for sure: There's going to be a helluva showdown.
Justice League is in theaters now.
If you liked this article, check out this video where the stars of Professor Marston and the Wonder Woman talk about how psychology helped create Wonder Woman.