'Wonder Woman 1984' Director Shares First Picture of Kristen Wiig's Cheetah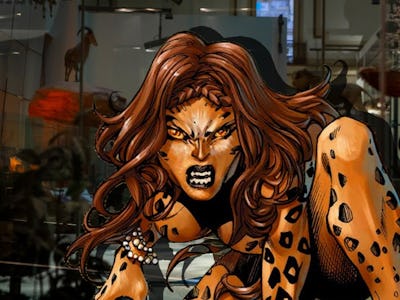 Warner Bros./DC Comics
Diana will return in Wonder Woman 1984, but she won't be facing off against Big Brother. In her second solo movie, Gal Gadot's Amazon princess will battle the Cheetah, played by Kristen Wiig. On Wednesday, Wonder Woman director Patty Jenkins shared the first picture of the villain, and although she's still a normal person instead of a human-cat, the picture can still tell us a lot about what to expect from the Cheetah.
The image shows Wiig standing inside a museum looking at taxidermied African animals, and given the film's DC setting, chances are it's the National Museum of Natural History. As Barbara Minerva, the Cheetah's real identity, Wiig has kind of an early Hermione Granger-esque look, with frizzy hair and somewhat frumpy clothing. She appears to be staring at something — probably a cheetah, if we had to guess.
"Enter Barbara Minerva… #WW84" wrote Jenkins in the tweet accompanying the picture.
Cheetah made her first appearance way back in 1943, when a character named Priscilla Rich went kind of insane and started wreaking chaos while wearing a cheetah-skin costume. Dr. Barbara Ann Minerva is the most iconic iteration of the character, and the first to be an actual feline hybrid. She was an academic — which could explain Wiig's seeming lack of style — who obtains the powers of an African god but the ceremony goes horribly wrong, turning her into a bloodthirsty villain.
The New 52, a recent continuity reboot, tweaked that origin a little bit with the reveal that Barbara was actually always the evil one from the start, and that she had corrupted the Cheetah spirit. A 2016 story largely reversed that twist. Based on how Wiig's Barbara appears to be acting like an actual lonely nerd-type character when she's alone, it seems that Wonder Woman 1984 will go with the more sympathetic backstory, though that's admittedly conjecture.
Wonder Woman 1984 comes out on November 1, 2019.