'Wonder Woman 1984' Footage Revealed at Comic-Con — Here's What Fans Saw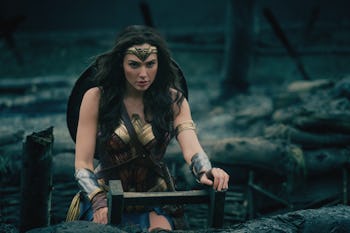 Warner Bros.
We still don't have an official trailer for Wonder Woman 1984, but anyone lucky enough to attend the Warner Bros. Comic-Con event on Saturday got an extremely early look at the upcoming sequel. Here's what they saw.
According to the Associated Press, the short clip, which director Patty Jenkins brought to Comic-Con, shows Wonder Woman saving a young girl from a group of 1980s bad guys. The scene is set in a mall, and the villains are dressed in "their Miami Vice finest," according to AP.
In a live blog from the Hall H conference center where the event took place, Bleeding Cool also offered a brief description of the scene, which is the result of Wonder Woman 1984's first few weeks of filming:
"We got a brief scene of Wonder Woman saving a girl in a mall with the whip then running through the road."
Speaking to the crowd, Wonder Woman 1984 star Gal Gadot and Jenkins also answered questions and discussed how they could top the critically acclaimed Wonder Woman. They argued the goal is to make another great film that can stand on its own rather than simply improve on the original.
We still don't know much about the plot of Wonder Woman 1984, though we do know when the film will be set: 1980s America. We also know that Chris Pine will return despite appearing to die in the original. Pine also appeared at the panel but never revealed how his character survived.
Wonder Woman 1984 hits theaters in November 2019.