The Mandalorian Season 3 Doesn't Have a Post-Credit Scene — And That's Good for Star Wars
We know what's coming. Do we really need it spelled out?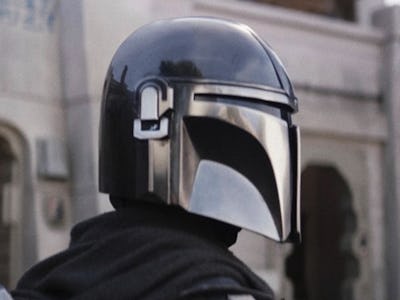 Lucasfilm
Star Wars took a page from Marvel Studios in crafting the Mando-verse, an interconnected world occupied by a handful of TV shows (and soon, films). The Mandalorian was the first to break new ground in a yet-uncharted Star Wars era, and its viral success has turned it into a potent launch pad for spin-offs. Through strategic cameos and shocking post-credits stingers, The Mandalorian primed Star Wars fans for an all-new roster of shows, but that effective technique has a downside for the series that started it all.
The Mandalorian has become synonymous with its cameos to the point where fans expect each season to culminate with a set-up for the next Star Wars show. With Ahsoka on the horizon and a fan-favorite villain, Thrawn, making his long-awaited live-action debut, many assumed Mando would do what it does best and set the stage with an appearance from the Grand Admiral.
But Season 3 of The Mandalorian does no such thing. Instead of crowding the finale with fan service and tangential characters, the series keeps its focus on resolving its main storyline — and setting up what could potentially be a low-key new life for Din Djarin (Pedro Pascal) and his young ward, Grogu.
Season 3 ends on a satisfying note: after helping Bo-Katan Kryze (Katee Sackhoff) free Mandalore from the clutches of the Empire, the clan of two is rewarded with a plot of land on Nevarro. Din and Grogu are last seen enjoying a moment of peace at their new cabin... and that's it. No post-credits tease. No "Gotcha!" reveal with Moff Gideon (Giancarlo Esposito), who Din and Bo defeated, but likely didn't kill. Whether Gideon will return to wreak havoc is an issue for another day. For now, isn't it enough to let Din and Grogu rest after what's apparently been years on the run?
Ahsoka fans may feel a bit stung by the Thrawn snub, but Mando has already done a lot of heavy lifting for the upcoming series. Thrawn's first mention came in The Mandalorian Season 2, as did Ahsoka's first live-action appearance. The Mandalorian singlehandedly established a new era of Star Wars TV, often at great expense to its own narrative. Now that the hard work is done, it's high time the series gets back to strengthening its storyline. Let's focus on the Mando behind the Mando-verse for a change.
All episodes of The Mandalorian are now streaming on Disney+.
INVERSE may receive a portion of sales if you subscribe to Disney+ through the link in this article.