Mandalorian Season 4 Just Got the Reboot It Desperately Needed
After a heavily serialized Season 3, it looks like the Din Djarin is getting a fresh start.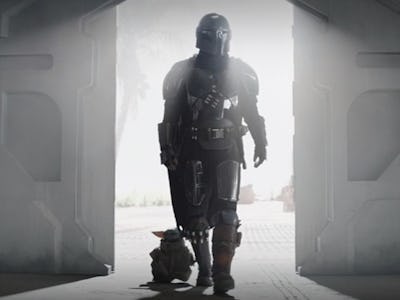 Lucasfilm
The Mandalorian Season 3 was unlike anything we've seen before. Aside from a few standard bounty-of-the-week episodes, the Star Wars series focused heavily on an overarching story about the return to Mandalore, Bo-Katan Kryze's ascension to leader, and the unification of the previously divided Mandalorian clans.
For a while, it seemed like the original "wandering hero" version of Din Djarin would never come back. The Mandalorian had evolved into the more standard space opera genre of other Star Wars projects. But the Season 3 finale proves this show hasn't forgotten what makes it great — and sets us up for an even better Season 4. Spoilers ahead!
How The Mandalorian Season 3 ending sets up Season 4
The Mandalorian Season 3 Episode 8 may not have had a Luke-Skywalker-level cameo, a post-credits scene, or any huge plot twists, but it did change the course of the show's future. With Moff Gideon defeated and Mandalore conquered, the reunited race joins together for the initiation of Ragnar, Paz Vizsla's son. (They started this ritual once before in the premiere, but it got interrupted by a giant dinosaur.)
There, Mando offers Grogu for initiation, but he cannot recite the creed. So instead, Din adopts Grogu so he can start training as an apprentice. The Armorer makes it official, giving Grogu his third name in as many seasons: Din Grogu. Apparently, Din is Din Djarin's family name, which is embarrassing since that's what we've used to refer to him all this time.
So Din — or rather, Djarin — adopts this small child, and like any responsible father, immediately takes him to a bar. There, he speaks with Carson Teva about a new business arrangement. In order to give Grogu some experience, the two will work for the New Republic to root out the remaining Imperial forces on a strictly case-by-case basis, entirely under the table. Teva agrees.
The Din family's next stop is Nevarro. They deliver a new robot Marshal and accept Greef Karga's offer of a cabin where the two reside peacefully as both a clan and a family.
It seems like this would be the perfect place to end the show altogether, but with Season 4 already underway, that's not an option. Instead, it's likely this moment signals a "soft reboot" since all the big plot threads like Moff Gideon and the Darksaber are (seemingly) resolved.
This doesn't mean that the show is going to change — if anything, it means the opposite. The series is returning to what it was at the start, an episodic story of a man picking up freelance work. But this time, he's bringing his kid along to learn the family business. Din and Son Bounty Hunters is open for business.
The Mandalorian is now streaming on Disney+.