Baby Yoda Spent Way More Time With Luke in The Mandalorian Than We Thought
Grogu's time at Jedi Camp was longer than viewers realized.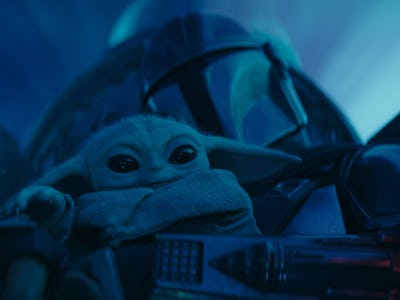 Lucasfilm
Time moves differently in a galaxy far away. In The Mandalorian and The Book of Boba Fett, Grogu apparently spent far more time with Luke Skywalker as an apprentice than it appeared.
In a roundtable interview that YouTube channel Skytalkers helpfully shared, The Mandalorian producers Dave Filoni and Jon Favreau revealed that the timeline of the two shows actually lasts for years. It may not have been obvious to viewers, but there's a two-year gap between the end of The Mandalorian Season 2 and the halfway point of The Book of Boba Fett, when Grogu reunites with Din Djarin.
When asked if Grogu is "a nexus point" between the Mandalorians and the Jedi, who at this point in the Star Wars saga are both rebuilding, Jon Favreau said:
"[Grogu] is definitely somebody who has spent time in both worlds. We know that he started off earlier in the Jedi Temple, we've seen flashbacks that speak to that. And we know he's been rescued and spent many years with the Mandalorian, went back with Luke, now we've been two years apart, there, training. What's interesting is that as he chooses to return to his friend the Mandalorian, he's developed an attachment. It's interesting how that echoes, in a way, Luke's path when he was drawn to the attachment of his friends and how that helped shaped the future."
Favreau doesn't specify how long The Mandalorian as a whole has lasted, but it's a show that feels like it's spanned six months at most. The time difference between The Mandalorian Season 2 and the Boba Fett episode where Din shows up feels like it was maybe two weeks. The scene had the vibe of Din swinging by to pick up Grogu after summer camp, but Favreau is out here saying "many years" as if that doesn't fundamentally alter our entire perception of the series.
If anything, saying there are years between The Mandalorian and Book of Boba Fett creates logistical problems. Grogu's 50-plus years of childhood are getting even sillier, and it calls into question how his species actually ages when Yoda succumbed to "old age" at 900. And events just felt like they happened in close proximity, rather than long stretches of time we didn't see. Did Din Djarin just hang around for two years without a ship?
The Mandalorian Season 3 is about to premiere on Disney+, and this sudden time skip won't affect its potential to be serious fun. It does, however, give us some questions to ponder as we watch another round of Din Djarin and Grogu adventures.
The Mandalorian Season 3 will premiere March 1 on Disney+.