10 Years Later, Marvel Is Walking Back Its Most Short-Sighted Decision
Inhumans are out of the MCU. Mutants are back in — and Kamala Khan may be leading the charge.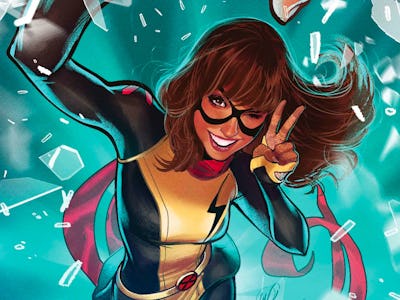 Marvel Comics
A controversial change is brewing on the pages of Marvel Comics, one that its cinematic counterpart might have helped make. The comics may exist in a world separate from Marvel's Cinematic Universe, but the MCU's influence on them has always been strong. Marvel Studios is bound to take liberties with its source material, and in the case of characters like Shang-Chi and the Mandarin, Black Panther's M'Baku, or Moon Knight, those changes are for the better. But the MCU's recent retcon of Kamala Khan (aka Ms. Marvel) surprised a lot of fans, and with the comics following suit, it's clear the brand is trying to undo one of its biggest failures.
Kamala was introduced as an Inhuman back in 2013, one clearly designed to legitimize the lesser-known super-race. At the same time, the MCU was working hard to bring the Inhumans into the fold, starting with a substantial arc in Marvel's Agents of S.H.I.E.L.D., and later an Inhumans movie-turned-TV series. While neither met much success, Kamala flourished in the comics. When she was finally tapped for a solo series on Disney+, many wondered if the MCU was ready to try again. Ms. Marvel, however, reintroduced Kamala (Iman Vellani) as a mutant.
It didn't take long for the comics to adapt this retcon themselves. In a shocking move, Kamala was killed in Amazing Spider-Man #26, which generated a lot of ire. But Kamala will soon be reborn — this time as a mutant — in a new four-issue series co-written by Ms. Marvel herself, Iman Vellani. Ms. Marvel: The New Mutant will see her join the X-Men while still, somehow, honoring Kamala's Inhuman heritage. How Marvel plans to pull this off remains to be seen, but Kamala's resurrection sends a clear message. Inhumans are out, mutants are in, and the same might also be true of the MCU.
For years, the MCU has had a glaring mutant problem. Marvel sold the rights to their mutant characters, including the X-Men, to 20th Century Fox in the early '90s. That led to a huge void as the MCU began to take shape, so Marvel used lesser-known groups like the Inhumans to help pick up the slack. The introduction of the NuHumans in Agents of S.H.I.E.L.D. laid the groundwork for Inhumans, while the comics featured prominent Inhuman characters in Civil War II and, of course, Ms. Marvel.
Despite Marvel's best efforts, Inhumans were never embraced like the X-Men were. It didn't help that the group had a complicated history, so trying to replace mutants was ultimately a fool's errand. And once Disney acquired Fox in 2017, Marvel no longer had to keep fighting a losing battle.
Instead, the Inhumans were eventually wiped from MCU canon. Agents of S.H.I.E.L.D. and Inhumans now exist in another timeline, thanks to a cameo from Inhuman King Black Bolt (Anson Mount) in Doctor Strange in the Multiverse of Madness. Marvel is also working — albeit very, very slowly — to introduce the X-Men to the MCU. She-Hulk briefly mentioned Wolverine, and Secret Invasion might also be alluding to mutants' presence on Earth-616. But it's Ms. Marvel that may lead mutants into the MCU. We'll have to see how her new role as an X-Man plays out in the comics, but it could be an effective way to finally get mutants on the big screen.