Why Hillary Clinton Should Smoke Weed on 'Broad City'
The Democratic presidential candidate has come out in support of liberalizing marijuana laws, so she kind of has to.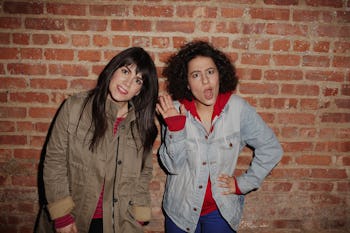 Lane Savage
Democratic presidential candidate Hillary Clinton recently announced that she'll appear on Season 3 of Comedy Central's Broad City. It's not yet clear what Hilldog's role will be, but one thing that's for sure is that Abbi Jacobson and Ilana Glazer smoke a lot of weed on the show. So: Will Hillary Clinton smoke marijuana on Broad City, and if so, how much?
No, it's not likely that Hillary Clinton — who really fucking wants to run the United States of America — will smoke marijuana for a major audience, especially considering her husband's tumultuous relationship with the drug.
But it will be interesting to see how Clinton fits into Broad City. It will not be her first scripted television appearance during the campaign. She starred as a bartender named Val in a Saturday Night Live skit with Kate McKinnon, who played a fictional Clinton.
To put it kindly, the SNL cameo was forced and awkward. Clinton had a very clear agenda to push, namely, that she's relatable, knows she's changed some of her political positions, and, again, that she really, really wants to be President. Being Val did afford Clinton the opportunity to be the butt of the joke, though. McKinnon satirized and insulted Clinton to her face, and Hilldog took it all in stride. Not even Drake takes a joke that well, and he made an intentionally meme-able music video.
From the looks of the jolly photos, however — including one where the Broad City stars call Clinton their third "best friend" — Abbi and Ilana will incorporate Clinton into some of their hijinks, letting her be herself — or at least the self she'd like to portray.
To succeed in promoting her political message to the kids, Hillary Clinton cannot promote her political message to the kids. If there are literal monologues where she talks about how she made some political mistakes in the past, but has since changed, as on SNL, it'll show. Maybe she doesn't rip major bong on the episode, but instead sits and watches as Abbi and Ilana do. After all, she's supported liberalizing marijuana laws, something competitor Bernie Sanders did before her. He's friends with a rapper now. If she wants to show him up and capture the millennial voting bloc, she's going to, at the very least, have to watch some jobless 20-somethings toke the green.