Drake "Hotline Bling" Video: Drake Dances Among His Thievery
Last night, Drake debuted the long awaited video for his hit single "Hotline Bling."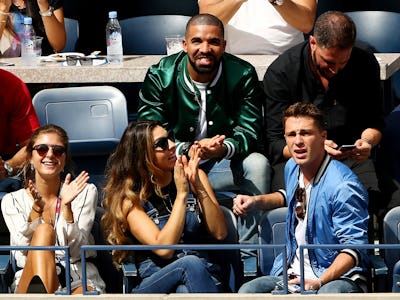 Just as the Toronto Blue Jays were winning their first game of the ALCS and Canada was electing a new Prime Minister, Drake decided to release the video to his hit single "Hotline Bling." The song that's received 500 different covers got a visual treatment that, at least 12 hours later, lives up to the hype and anticipation.
The video is directed by Director X, who has been making videos for nearly two decades and worked on two of Drake's most memorable videos, "HYFR" and "Started from the Bottom."
The video, with its stark minimalism and pastel-colored lighting, quickly reminded people of the work of James Turrell. Though people might've thought they got a quick one-up reference on the rapper, Drake visited James Turrell's exhibit at the Los Angeles Country Museum of Art last year and took some pretty amazing photos in the exhibit that could've easily come from the video.
Though there is footage of Drake dancing to "Cha Cha" and a conversation took place between D.R.A.M. and Drake, a solid partnership was never formed. Whatever happened, D.R.A.M. is putting it behind him.
D.R.A.M.'s moved on. James Turrell's probably gonna take the homage with a smile, so don't be a hater and enjoy the video below and dance like only Drake is watching.