Kate McKinnon Is Gonna Be a Star and I'm All the Way Here for It
A primer for the 'SNL' star's ascent to ubiquity.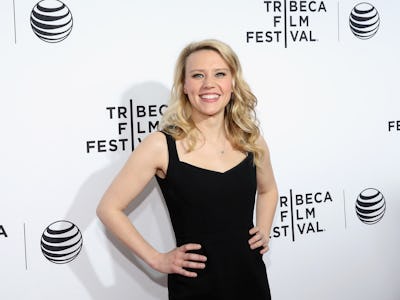 An annual tradition for sports fans invested in a postseason tournament is being subjected to the same commercials over and over again. It depends on what broadcasting company televises the event. For instance, if you're watching TNT or other Turner networks for the NBA Playoffs, you're going to see a lot of promos for gloriously half-baked forthcoming television series. One year, it was Franklin & Bash, RIP. Another year it was The Frank Caliendo show, which might have actually been a Fox thing now that I think about it. (With all the beer intake that accompanies postseason sports, it all begins to bleed together.) Castle is almost always involved, even though I'm probably just fever-dreaming Castle promos at this point. The network knows they have your attention for the fourth quarter of this Thunder-Warriors game, and they're going to lay it on thick.
This year, for the MLB Playoffs, we were subjected to ads about MasterPass, starring SNL featured player and general rising star Kate McKinnon. Behold:
These ads aired… a lot. Without a doubt, MasterCard dropped a lot of dimes making sure these ads would be seared into your skull. (MasterPass is just like PayPal, but for MasterCards FWIW.) But, in this rare instance, I thought, "I'm allowing this." Why?
Simple answer: Cuz I'm fully aboard the Kate-McKinnon-Is-Going-To-Be-Huge bandwagon.
Though the merit of this claim has grown more and more dubious with each recurring season, McKinnon is the absolute star of Saturday Night Live, effecting a Kristen Wiig-like versatility in her characters that comes across as much less grating. (Love Wiig, but she was stretched too thin). She's a naturally electric figure, imbuing all of her characters — in particular, her portrayal of Hillary Clinton — with a certain sort of unhinged mania. McKinnon, who has already made history for being the first openly gay cast member in SNL history, will almost certainly join the list of revered SNL alumni when she makes the inevitable jump to movies and TV. Although there's a number of still-potent show veterans that will almost certainly ascend to other memorable things — Kenan Mitchell, Vanessa Bayer, Taran Killam, Aidy Bryant — McKinnon is the show's breakout star in an era where the franchise's fast-risers are increasingly fewer and far between.
It's all happening sooner than you think, too, so buckle the hell up if you're gonna ride my bandwagon here. McKinnon will star in the all-female Ghostbusters reboot, and if that wasn't enough of a launchpad, she'll be getting a ton of mileage out of her weekly portrayal of Hillary Clinton as Clinton preps her assault for the Democratic National Party's Presidential bid. This sounds like a lofty summit, and I wouldn't be surprised if McKinnon's forthcoming run as HillDawg will reach the rare air of Tina-Fey-as-Palin. Her ascent seems that inevitable and I'm all the way here for it.
Kate McKinnon, coming, ya'll. You've been advised.