Donald Trump Gets Meta on SNL With a Twitter Skit
The Donald isn't one to mince words.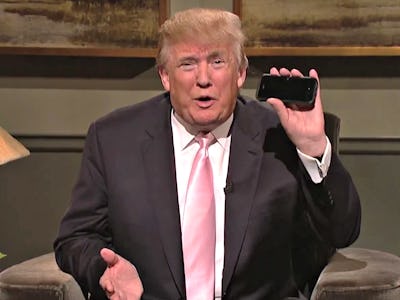 YouTube Screenshot
After a short mid-season break, SNL returned on November 7, with none other than Donald Trump at the helm of what felt kind of like… the Titanic.
Before the show even aired, there were protests outside of 30 Rockefeller Plaza (attempting to "shut it down" a la Liz Lemon), John Leguizamo spoke publicly about boycotting SNL because of Trump's "hate-mongering," and heck, Larry David even "heckled" Trump and called him a racist during the night's opening monologue.
But, let's get to that sketch.
Trump tweeted about a Twitter skit (whoa, meta huh?) a few hours before airtime.
The sketch was preceded by a little intro from Trump, saying he was too busy to actually be in it, but he could do the next-best thing: live tweet it.
The camera cut to a restaurant scene with Taran Killam and Cecily Strong as a couple of honeymooners, Kate McKinnon and Kenan Thompson as bickering restaurateurs and Vanessa Bayer as their son. At first, they all played the sketch pretty straight, but as Trump's "live" tweets started flashing on the screen and prompting the audience to laugh at random moments, the actors started getting cagey about their performances.
With a newsboy cap and an accordion, Bayer broke character and muttered under her breath that she didn't even want to be in the sketch anymore, but Thompson urged: "Vanessa. You have to. This is live." She "stormed" off after wondering if Trump was making fun of her, too ("Is it about my teeth? These are my real teeth!").
Finally, Leslie Jones interrupted the sketch and saved the day — earning props from the Donald… until he shared an offensive tweet and then all bets were off.
In the end, none of the tweets were really barbs, and the whole thing was staged Inception-style with actors pretending to react to fake social media while acting in a fake sketch… all of which was wrapped in a very self-aware bow. Real-life Trump is no stranger to Twitter, and this skit gently took him to task for the things he has said on the social media network (and in real life), including the notion that President Obama wasn't really born in the U.S.
Critics pretty much agree that last night's episode was an unfunny dud. (A.V. Club even gave it an F!) However, the Twitter sketch did a pretty decent job of being mindful of its subject matter as well as incorporating "tech" and current events.
Without further ado, watch SNL poking fun at Trump poking fun at SNL.
And finally, some good news for all you SNL aficionados out there (count us in!), the show's entire 40-year library will streamable on Seeso next year.