Inverse Daily: Tesla's Cybertruck "doesn't look like anything else"
Elon Musk's Tesla Cybertruck has arrived, and it's a lot to take in.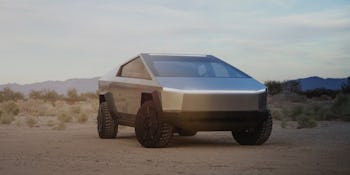 Good Friday morning. While I try to get my head around the amazingly brutal-and-good design of the Tesla Cybertruck — read all about it below — let's get you caught up on the latest and greatest science and innovation news of the day. We have a story about the universal power of music, the biological reason you want to protect baby Yoda, and a new feature story on a surfer who is breaking boundaries, one mega wave at a time.
I'm Nick Lucchesi, executive editor at Inverse, and this is Inverse Daily. Let's get into it.
This article is an adapted version of the Inverse Daily newsletter. Subscribe for free and earn rewards for reading every day.
INVERSE QUOTE OF THE DAY
"The thing that really produced these individual differences was when we allowed them to have a binge drinking experience."
— Cody Siciliano, who is an assistant professor at Vanderbilt University.
Cybertruck has arrived
They hit its steel alloy body with a sledgehammer. They shot it with a 9-millimeter handgun. They showed off the toughness of its glass by dropping weights on it from a decent height. And they did it dressed as macho cybergoths.
This was the Tesla Cybertruck unveiling on Thursday night.
"Welcome to the cybertruck unveil," Musk said, triumphantly lifting his arms above his head, a little after 8 p.m. local time from the Tesla headquarters in Hawthorne, California.
Read more about the Cybertruck and see photos →
More Cybertruck headlines from Inverse:
Designer babies are coming
If we could really design our children, what would they be like? While the question might trigger the thought of a dystopian society where a child's traits are selected to fulfill a predetermined social order, in reality, the ability to choose them may not be that far-fetched.
We already have the technology to choose embryos that will grow up to be slightly taller children with slightly higher IQ scores, new research published Thursday shows.
But while the debate over the ethical implications of gene editing is ongoing, research continues to progress, reports Inverse writer Emma Betuel.
What to expect when you're expecting a designer baby →
More on gene editing:
This song's for you
There's a reason why music is called a universal language: Lullabies, hymns, pop songs, and dance tracks are as ubiquitous to the human experience as eating and sleeping. However, scientists have never proved music is a universal experience or why songs become the background of our lives. It's been more of a feeling, evidenced by the cross-cultural appeal of stars like BTS and Harry Styles.
The most comprehensive and systematic evaluation of the universality of music to date was released this week, and it reveals that hundreds of diverse societies are united by engaging in music in strikingly similar ways.
"Around the world, music is associated with, among other behaviors, warfare, infancy, healing, love, dance, mourning, storytelling, and greeting visitors," co-author Manvir Singh, a Harvard University researcher, tells Alexandra Pattillo for Inverse.
A large-scale study reveals the social function of songs. →
These stories hit all the right notes:
Mic Check
Like you, we spend a lot of time on the internet. We also spend a lot of time managing the stress that comes with staying informed.
Mic Check is a place where we can work through what's happening in the world together, and have a little fun in the process.
For a daily morning brief on politics and culture, sign up here →
I would die for Baby Yoda
There is a new king and his name is Baby Yoda.
For the uninitiated, Baby Yoda is an unnamed 50-year-old toddler who enjoys eating frogs and playing with the Force on the Star Wars TV show The Mandalorian. IRL, Baby Yoda is a puppet that turns people's brains into cotton candy goo, Inverse Mind & Body editor Sarah Sloat observed this week.
"It's as if the designers behind the series knew exactly what they were doing," she tells me. "According to evolutionary research, Baby Yoda's face maximizes the features we find most cute. These include big eyes, large ears — essentially, French Bulldog stuff."
The internet is full of people happily declaring they would "die for Baby Yoda." So why the full embrace of a green gremlin dressed in monk robes? Turns out, Baby Yoda is exactly what we humans have evolved to love.
The scientific reason we love baby Yoda →
Related stories:
Future 50: Paige Alms
Paige Alms is busting up the surf industry's boys club. Pro surfing has an image problem, and Alms, big-wave champion and boundary breaker, wants to fix it.
The newest member of the Inverse Future 50, Alms helped push the World Surf League to institute equal prize money for male and female competitors. Now, she's challenging big surf brands like Billabong and Roxy and surf media like Stab Magazine and Surfline to showcase female surfers for their athletic performance, not just their sex appeal.
"The surf brands and magazines are strictly run by men, and they're only showing guys' stories," Alms says. "Are the little girls growing up now going to see the one article out of 100 that's featuring a girl?"
Paige Alms is solving the most expensive problem in pro surfing →
Related stories:
Today's good thing
Imagine if every time you searched for something on Google, someone would plant a tree. That's generally the idea behind Ecosia, a German-based search engine that donates up to 80 percent of its profits from ads that run next to search results toward planting trees around the world. This good news is according to a report this week from Bloomberg.
"It's easy to underestimate the massive impact that planting trees can have, with reforestation found to be the cheapest and most immediately effective weapon in the fight to save the planet," Ecosia CEO Christian Kroll said.
As of this writing, Ecosia has planted more than 75 million trees. Visit the website here.
But you don't have to use a German search engine to plant a tree, obviously. Check with the Arbor Day Foundation for more information on how and where to plant trees around your home and in your community.
Meanwhile …
Inverse Loot
Subscribe to Inverse Loot and learn about these deals first.
That's all for today!
Thank you for reading and if you have a suggestion for how to make this newsletter better, drop me a line at nick@inverse.com. And follow me on Twitter where I retweet the best of Inverse every day.