'Gargoyles' creator has high hopes for possible revival, thanks to Disney+
Greg Weisman is encouraging fans to binge 'Gargoyles' on Disney's new streaming service if they want to see the story continue.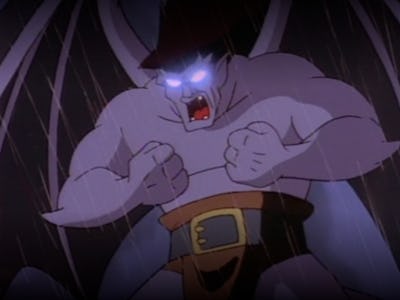 Disney
The spell is broken! The Gargoyles live again! This week, following the somewhat buggy launch of Disney's streaming service Disney+, one of Twitter's top trending topics wasn't Avengers: Endgame or The Mandalorian. It was Gargoyles. Now, one of its creators, Greg Weisman, has high hopes for the future of the show.
"I'm thrilled Gargoyles is available on Disney+," Weisman tells Inverse via email. "Thrilled that fans — old and new — can see or be exposed to the series and thrilled that this represents at least a chance of getting Gargoyles back. Hence the #KeepBingingGargoyles campaign."
Weisman added, "It worked for Young Justice, so you never know."
A cult millennial favorite that aired for 78 episodes between 1994 and 1997, Gargoyles follows a clan of 10th-century living gargoyles, led by Goliath (Keith David) who defend mankind. Betrayed by the Scottish crown, the Gargoyles are cursed into a deep sleep where they awake in present-day Manhattan. They then team up with an NYPD detective, Elisa (Salli Richardson) and learn about the modern world while defending it from threats new and old.
A stand-out series from the '90s block Disney Afternoon, Gargoyles was Disney's bet to compete with other kids' TV juggernauts like Batman: The Animated Series, X-Men, and Mighty Morphin Power Rangers. Disney canceled the show after three seasons, but its popularity endured due to its dark tone, complex story arcs, and Shakespearean themes. In 2009, IGN ranked Gargoyles number 45 in a list of the best 100 animated shows. From 1997 to 2009, a fan convention called Gathering of the Gargoyles took place in major cities, including New York, Dallas, Chicago, and Los Angeles.
The series was released on DVD in 2004, but the collection was left incomplete for years; Season 2 was split in half, with Volume One released 2005 and Volume Two releasing years later in 2013. Season 3 was never released on DVD.
Now with Disney+, the series is available to watch in its entirety, and in its original form (censored versions aired on Disney's cable channels, Toon Disney and Disney XD). Like Frozen and Star Wars, this is a huge deal to the adult audience that grew up watching it on weekday afternoons. Even the official Disney+ Twitter account acknowledged the show's unexpected popularity on the platform.
Weisman, who developed Gargoyles with the husband-wife team of Michael and Byrnne Chandler Reaves, has been here before. Also the creator of Young Justice, another cult animated series that saw revival on the streaming app DC Universe, Weisman knows what it takes to revive popular shows.
In 2016, Weisman told Inverse that fans' constant binge-watching could help its series' prospects.
"Netflix keeps track of the views a show gets," he said. "If all the fans binge watch on an ongoing basis — they can turn it on and go do the laundry, I don't care — that registers for Netflix. Netflix says, 'Our subscribers like Young Justice, maybe we should do more.' It also registers for Warner Bros."
In 2018, journalist Richard Rushfield reported via his newsletter, The Ankler, that Us and Get Out director Jordan Peele pitched Walt Disney on a Gargoyles movie, but the studio resisted.
But now, thanks to Disney+, anything seems possible.
Gargoyles is streaming now on Disney+.