Musk Reads: Crew Dragon clears a huge milestone
Plus, the Starship Mk 1 gets new components; and this is exactly how many launches SpaceX has completed this year.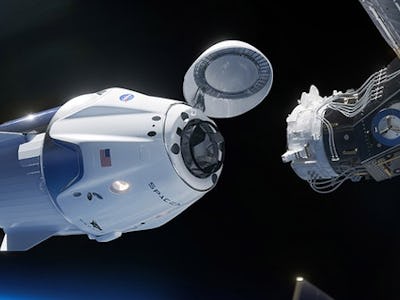 The Crew Dragon clears a key milestone; the Starship Mk 1 gets new components; and this is exactly how many launches SpaceX has completed this year. It's Musk Reads: SpaceX Edition #118.
Musk quote of the week
"Hard to say with high accuracy, but 4 to 6 weeks is my best guess."
SpaceX Crew Dragon
SpaceX's Crew Dragon took another step forward this week after the company announced it had completed 13 successful tests of its Mark 3 parachute system. Fans were quick to note that SpaceX was previously aiming to complete 10 successful parachute tests. The capsule is designed to ferry astronauts to and from the International Space Station and uses two drogue parachutes and four main ringsail parachutes.
The new parachute design, supplied by Airborne, replaces the cords with a new "xylon" material, as opposed to the "nylon" used in earlier versions. Musk stated at the start of October that it offers the "highest safety factor for astronauts."
It's been a rocky road to reach this stage. A highly publicized failure in April led to concerns about the planned parachute system. But with the latest successes, SpaceX has taken a big step toward hosting an in-flight abort test and moving on to the first manned mission.
Parachutes aren't the only area where SpaceX has been busy. The company installed the SuperDraco thrusters earlier last week, as seen on the official Twitter account.
In other SpaceX news…
How much would an inter-Earth flight on the Starship cost? Company President Gwynne Shotwell has suggested that city-to-city flights on the Mars-bound rocket, which could cut travel from London to New York down to just 30 minutes, would cost somewhere above economy class but less than first class flights. That coincides with a previous analysis that placed the price somewhere around $1,200 per ticket. These would be gruelling flights, with around 1,000 people strapped in with no in-flight amenities, traveling at ultra-fast speeds. Read more.
The Mk 1 prototype took an exciting step toward its first flight this week. Reporter Eric Ralph noted that the company has reinstalled the rocket's flaps for a second time ahead of a planned 20-kilometer jump. Half of the prototype was transported to the launch pad last week.
As the year draws to a close, how many launches did SpaceX complete? YouTuber Jack Lishman noted in his monthly roundup that SpaceX has only completed 10 flights so far this year, compared to 21 flights in the previous year. While the Falcon 9 completed eight flights, the Falcon Heavy completed twice as many as the previous year with its two commercial flights.
What's next for SpaceX: SpaceX is set to launch another set of 60 Starlink satellites for its internet connectivity constellation on November 11 at around 10 a.m. Eastern time. The launch was originally set for October 17 but was subsequently pushed back. It's expected to take off from Space Launch Complex 40 at the Cape Canaveral Air Force Station in Florida.
Musk Reads mailroom
We received a number of suggestions this week for possible new names for SpaceX's Texas facility. Although the company has not expressed an interest in renaming Boca Chica, which shares the name of the nearby village, fans have suggested that a space-age name could better reflect the Starship Mk 1's birthplace.
Don Battles writes:
"Recommend you name the place SpaceX Star City."
Omer Giraldo writes:
"A more appropriate name should be "Boca Grande", big mouth, to go with the future's big plans…"
Steffen Hahn writes:
"My suggestion for a new name is Boca Estrella - mouth (to the) stars. It keeps a part of the old name (and hence the history/relation with the nearby city) but attaches it to its new purpose."
Got any comments or queries? Don't forget to send them over to muskreads@inverse.com.
Video of the week
SpaceX's Crew Dragon parachute takes flight.
The Elonporium
Subscribe to Inverse Loot and learn about these deals first.
The ultra-fine print
This has been Musk Reads: SpaceX Edition #118, the weekly rundown of essential reading about futurist and entrepreneur Elon Musk. I'm Mike Brown, an innovation journalist for Inverse.