Musk Reads: SpaceX's new timeline revealed
SpaceX wants a Starship trip to the moon by 2022; the Crew Dragon prepares for static fire; and the Starlink makes a public demonstration.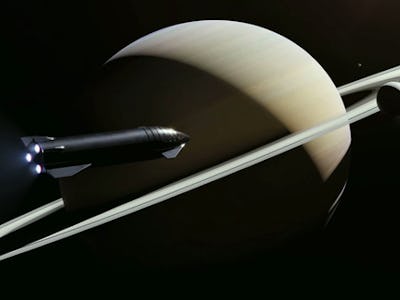 SpaceX wants a Starship trip to the moon by 2022; the Crew Dragon prepares for static fire; and the Starlink makes a public demonstration. It's Musk Reads: SpaceX Edition #116.
A version of this article appeared in the "Musk Reads" newsletter. Sign up for free here.
Musk quote of the week
"Sending this tweet through space via Starlink satellite 🛰"
SpaceX Starship
SpaceX wants to use Starship to make humanity into a multi-planetary species. Last week, company president Gwynne Shotwell explained how the company is aiming to send one of the rockets to the moon as early as 2022. It's the latest detail in the company's emerging timeline to use Starship to expand humanity's presence in the solar system, which includes a trip around the moon in 2023 and a city on Mars by 2050. Shotwell stated earlier in the month that the goal was to support humans landing on the moon in 2024. Paul Wooster, principal Mars development engineer, explained in the same month that Starship enables SpaceX to tackle both a lunar base and a Mars city at the same time.
Where could it go from there? Shotwell said that humanity could even start making its way toward other habitable solar systems: "I think we will have a propulsion breakthrough in my lifetime that we can then say we will build a ship and start the journey." Read more.
The company is also still planning to host inter-Earth trips with Starship, which would take around 25 minutes to get from Los Angeles to New York. Shotwell noted that the flights will likely cost more than a standard economy flight, but less than a first class flight.
Input
It's time to upgrade the way you get tech news. From game consoles to smartphone OSes to Apple's latest gadget, Input is all about what's coming next.
In other SpaceX news…
The Crew Dragon is coming together, and it could hold a static fire test this week. The company is making progress on its human-carrying capsule, designed for NASA to send astronauts to the International Space Station. The company is preparing for an in-flight abort test that will demonstrate the SuperDraco thrusters' ability to escape from a malfunctioning Falcon 9 during launch. CNBC reported last week that, ahead of the abort test, the static fire test could come this week. Recent comments from NASA's Jim Bridenstine suggests tensions are running high as the agency races to replace Russia's Soyuz rockets. Read more.
Musk demonstrated the Starlink internet service this week in a very public way by sending a tweet through the service's satellites. Although SpaceX has only launched 60 Starlink satellites so far, barring test satellites, the company has big plans for up to 42,000 crafts, offering high-speed, low-latency satellite internet anywhere on the planet. The service could bring in $30 billion annual revenue by 2025, vastly eclipsing the $5 billion annual revenue the rocket launch industry as a whole brings in. Read more.
Starlink has come under scrutiny for its high number of crafts in the air. In response to this concern, Shotwell noted that if the Earth was populated by just 30,000 people, humans could easily go their whole lives without seeing another person.
What's next for SpaceX: SpaceX is set to launch another set of 60 Starlink satellites for its internet connectivity constellation at an as-yet-unspecified date. The launch was originally set for October 17 but has since been pushed back. It's expected to take off from Space Launch Complex 40 at the Cape Canaveral Air Force Station in Florida.
Musk Reads mailroom
Kevin White writes:
"I suggest [re-naming] it to "Fantastico." Simple and on point, with a little south of the border flair."
Should SpaceX rename its Boca Chica facility in Texas, where it's constructing the Starship? Reader Elizabeth Jane last week proposed the name "Alfa Base Terrestre," which is Italian for "Earth Base Alpha" and a reference to sci-fi classic Space: 1999. The name "Fantastico" is perhaps more in keeping with the original Spanish name, which translates to "small mouth."
SpaceX has not expressed interest in changing the name, which is the current name shared by the village nearby, but perhaps this could change as launch approaches?
Got any comments or queries? Don't forget to send them over to muskreads@inverse.com.
Photo of the week
SpaceX's work is well underway on the next Starship at the Boca Chica facility.
The Elonporium
Subscribe to Inverse Loot and learn about these deals first.
The ultra-fine print
This has been Musk Reads: SpaceX Edition #116, the weekly rundown of essential reading about futurist and entrepreneur Elon Musk. I'm Mike Brown, an innovation journalist for Inverse.
A version of this article appeared in the "Musk Reads" newsletter. Sign up for free here.