Inverse Daily: Apple's new AirPods have it all
Apple may have built the perfect wireless earbuds.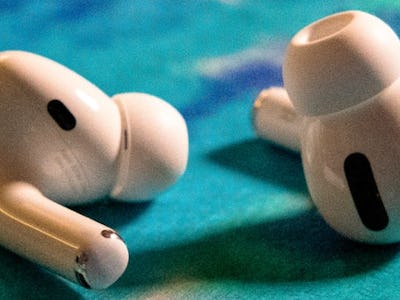 While I read up on the latest "Dark Rey" theory, let's get you caught up on the latest news from Inverse. Today's a special version of the newsletter because it features a review of the Apple AirPods Pro, which surprise-dropped this week, and our partners at Input got to test them out. Scroll down for that.
We've also got new info on how SpaceX will carry people from NYC to London in 30 minutes, along with a study on five unexpected side effects of climate change on human behavior.
I'm Nick Lucchesi, executive editor for Inverse. By the way, I'm doing a little reader research to improve Inverse. If you'd like to take part, send me an email at nick@inverse.com with "READER RESEARCH" in the subject line.
And make sure to open up tomorrow's Inverse Daily for a special 🎃 Halloween edition 🎃.
This article is an adapted version of the Inverse Daily newsletter. Subscribe for free and earn rewards for reading every day.
INVERSE QUOTE OF THE DAY
"We were able to see the correlations between changes in brain structure with astronaut performance."
— Dr. Donna R. Roberts, who has been looking at the effects of space flight on the brains of astronauts.
MIT engineers develop a "revolutionary" new device to capture CO2
Engineers at MIT have developed a new device that can allegedly capture carbon dioxide from the air at a lower cost than existing devices. Being able to affordably capture carbon from the atmosphere is going to be an important part of stopping climate change, according to IPCC reports, so this breakthrough is a big deal.
The device passes a stream of air through a stack of charged electrochemical plates. The researchers describe it as "essentially a large, specialized battery." The stream of air passes over electrodes that are coated with a compound called polyanthraquinone, which attracts carbon dioxide while the device is charging. Once the CO2 has been collected, it can be released so it can be stored while it is discharging.
Go deeper:
Narcissism can lower stress levels and reduce the chances of depression
Narcissists may not be particularly endearing, but there could be unexpected upsides to an overinflated ego. Having a high opinion of yourself may protect you from mental health conditions like depression, according to two research papers published this week.
Kostas Papageorgiou, Ph.D., has been preoccupied with the benefits of narcissism for several years.
In a 2018 study, Papageorgiou's team found that people with low levels of narcissism tended to get better grades in school. But this new study points to an even greater advantage to such self-centered behavior.
Learn more:
It's the last week of the month!
Search your inbox for old Inverse Daily emails that you may have missed to quickly raise your Rewards rank.
Review: Apple AirPods Pro
Apple debuted its AirPods Pro this week. Over at Input, senior reviews editor Raymond Wong has given them his review.
"There's one thing about AirPods everyone agrees on: they sound okay, but not knock-your-socks-off great. Apple's AirPods Pro ticks off that final checkbox.
"With the exception of a few small bugs, the new AirPods have it all: fantastic noise cancellation, a natural-sounding ambient listening mode, smaller stems with physical playback controls, and a compact charging case that provides 24 hours of battery life like regular AirPods."
Read the full review, just posted this morning →
More consumer tech from Input:
Sunday Scaries
Beat the "Sunday Scaries" with a weekly newsletter that mixes soothing science and relatable advice to get your mind & body ready for the week ahead.
Here's how much a SpaceX inter-Earth flight will cost
SpaceX's Starship is set to whisk passengers to the moon, Mars, and beyond. But perhaps one of its most groundbreaking features for people on Earth is the promise of inter-Earth flights, whizzing between major cities at Mach 25 speed within an hour.
Although the flight will be gruesome — CEO Elon Musk has promised 1,000 people Disneyland-style restraints, with no food or restrooms — it could come at a surprisingly cheap cost. SpaceX President Gwynne Shotwell claimed last week that the flight could cost more than an economy flight, but less than first class.
It's a bold claim, but also one that matches with third-party analysis. A flight just north of $1,000 to move from New York to London in less than an hour is a tantalizing prospect, and the reusability of the Starship could make it economical. If the company can fill up each rocket and get the fuel for the right price, it could mean a very enticing offer.
SpaceX isn't stopping there. Musk has floated the idea of capturing the carbon to create more fuel, as well as linking the spaceport with a hyperloop to reach the city center within 10 minutes. The future of spaceflight could make the biggest changes for people on Earth.
More SpaceX travel stories:
Here are 5 human side effects of climate change
How will climate change affect our nutrition? Researchers have predicted that rising temperatures will cut into crop yields in the long term, but high heat will also have some unexpected effects in the near future, new research shows.
Exposure to increasing heat may drive bad nutrition, putting more people in the hospital for a surprising reason: Hot weather changes how people behave. It can make people less hungry, exacerbate existing conditions, and even increase alcohol consumption.
Researchers have revealed five ways climate change could upend people's lives. Here's what they found.
Go deeper:
Meanwhile …
Inverse Loot
Subscribe to Inverse Loot and learn about these deals first.
That's it for Inverse Daily today.
If you've got a suggestion for how to make this newsletter better, drop me a line at nick@inverse.com. And follow me on Twitter, where I retweet the best of Inverse every day.
P.S. If you're behind on your Inverse Daily Rewards, just search your inbox for any emails that you may have missed. New prizes Friday!