Musk Reads: Tesla designer teases future cars
Tesla Roadster is evolving into "the ultimate vehicle"; Model Y improvements are on the way; and solar panels could protect against power outages.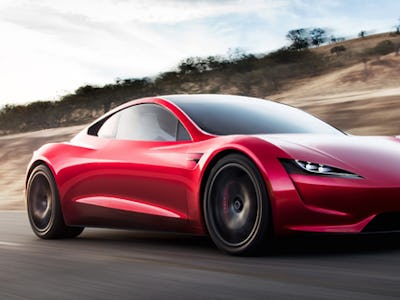 The Tesla Roadster is "evolving" into "the ultimate vehicle"; Model Y improvements are on the way; and solar panels could protect against power outages. It's Musk Reads: Tesla Edition #115.
A version of this article appeared in the "Musk Reads" newsletter. Sign up for free here.
Musk quote of the week
"The final configuration used at Nürburgring to set the record will go into production around summer 2020, so this is not merely for the track."
Tesla
The Tesla Roadster may be "evolving" into "the ultimate vehicle." Franz von Holzhausen, Tesla's head designer, explained in an interview that the second-generation supercar could pack a more impressive punch than expected. That coincides with previous comments about the upcoming car. Racing driver Emile Bouret has suggested the car's 0 to 60 mph in 1.9 seconds is perhaps on the "conservative" side, while Musk has teased the 200-kilowatt-hour battery pack might get slimmed down. Perhaps the biggest change could come from the SpaceX options package, expected to add 10 thrusters around the side of the car to boost performance. Read more.
The full Ride the Lightning interview, available here, is worth listening to for anyone interested in the details of design. Some other highlights:
On design tweaks for the Plaid-powered Model S that went around the Nürburgring: "I think the results of that are potentially in the future."
On how Tesla's design is changing: "Each of our vehicles will never be constrained by something that we've done in the past … it's really about making a beautiful product, right for what that product is intended to be."
On when the Model S and X might get a Model 3-style minimalist interior: A deep sigh and a "yep" followed by, "I think, in a positive way, we'll always be making our products better."
On the Model Y: "I think what you saw in March is really true to the final design … we made improvements on it to make it a better product."
Tesla solar
Could adding solar to a house bring unexpected benefits? Research shared by Musk this week, conducted by American real estate listing website Zillow, found that homes with solar panels sell for, on average, 4.1 percent more than homes without solar panels. Based on the median price of a house in the United States, that equates to around $9,247 extra. The New York metro area offers particularly large boosts, adding 5.4 percent extra, which equates to $23,989 in value. This comes on top of the savings from energy bills. Amanda Tobler, one of the first people to own a Tesla Solar Roof, told Inverse in May that she saved nearly $4,000 on bills in one year, meaning the roof will pay for itself in around 13 years. Read more.
The stats come as Californians face blackouts, which the Pacific Gas and Electric company warns could last for a further 10 years. Robert Kerestes, assistant professor of electrical and computer engineering at the University of Pittsburgh, explained in comments shared with Inverse that solar plus battery setups will help to diversify the grid and protect against disruptions:
"Temporary power outages like these may become the new norm, but only if we don't come up with more resilient ways to keep people energized during natural disasters like fires, hurricanes and earthquakes. The traditional method of delivering electric power from large centralized generation sources in remote locations still has a place in the future grid by providing the base power that we need, but the deployment of distributed energy resources and storage will likely be the key to achieving a more resilient grid."
What's next for Tesla: Tesla is expected to hold a conference call on Wednesday, October 23, at 6:30 p.m. Eastern time to discuss its third-quarter earnings results. Earlier this month, the company announced record quarterly deliveries of 97,000 cars.
Musk Reads mailroom
Carol Lambert writes:
Solar roofs and windows? I would like to have your research materials to be used in the production of autos! Also hoods and trunks!
A Tesla with a solar roof could add some extra range, but Musk doesn't seem too keen. In July 2017, he dismissed the idea, as an electric car stays indoors most of the time and the panels themselves probably wouldn't collect too much energy.
One company that is developing a solar car is Sono Motors, a Munich-based firm set to launch the Sion in 2020. The €25,000 ($27,873) car moves 158 miles per charge and adds 21 extra miles of charge per day. The bidirectional battery can also supply storage for a solar-equipped home, and it's set up for car sharing from day one. Inverse profiled the co-founders earlier this month, who did note that European driving habits lean toward parking cars outside in the sun.
Another firm exploring this area is Netherlands-based Lightyear, which plans to launch the Lightyear One in 2021 with the ability to add 7.5 miles per hour to the battery. With all these big moves towards solar panels on cars, could Tesla's position leave it out of the sunlight?
Got any comments or queries? Don't forget to send them over to muskreads@inverse.com.
Photo of the week
Musk Reads reader Rick Clark sent in this week's photo:
"[This is] our Savanna Cat named "Zeus." During the four-day power outage in Santa Rosa, California, my wife and I decided to try out Netflix in my Model 3. Zeus decided to join us. It was very cool. Much like going to the now-defunct drive-in movies decades ago. We had our wine, snacks and cat. We also have a Model X, but we did not have the latest update then. We do now, so PG&E bring it!"
Got a photo or video you'd like to see featured? Send it over to muskreads@inverse.com
The Elonporium
Subscribe to Inverse Loot and learn about these deals first.
The ultra-fine print
This has been Musk Reads: Tesla Edition #115, the weekly rundown of essential reading about futurist and entrepreneur Elon Musk. I'm Mike Brown, an innovation journalist for Inverse.
Sponsor Musk Reads and get your business in front of a brainy, curious audience that's motivated to make the world a little better tomorrow. advertising@inverse.com.
A version of this article appeared in the "Musk Reads" newsletter. Sign up for free here.