Tesla solar: Elon Musk shares how home panels may offer unexpected benefits
Solar panels could offer more than just clean energy.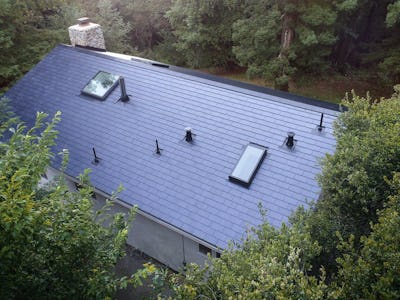 Tesla
Looking to add solar panels to a home? It could increase the value by a sizeable amount.
On Tuesday, Elon Musk shared statistics from American real estate listing website Zillow, which found that homes with solar panels on average sell for 4.1 percent more than similar homes without solar panels. The survey, which looked at homes listed between March 2018 and February 2019, suggests that the average median-valued home could receive an average $9,247 on the value of their property.
The figures demonstrate the value of adding solar panels to a home that moves beyond just savings on energy bills. Solar panels can offer homes a zero-emission source of energy, and when paired with a battery offer a form of energy independence that helps them ride out power cuts — a key benefit for Californians facing power outages this month. These blackouts, caused by poorly-maintained power lines managed by Pacific Gas & Electric, could last for another 10 years.
Musk would be keen to tout these benefits to his followers. His company Tesla offers solar panels, both in retrofit form and the more futuristic solar roof style. In August, the company rolled out cheaper-than-grid solar rentals, which in some markets can undercut energy bills by offering a single monthly payment.
"Very likely that a home with clean power that's lower cost than utility, plus blackout protection via Powerwall, will have a positive effect on value," Musk stated via Twitter Monday.
Solar panels: how adding solar can change the price of a home
Zillow's research found the story varies depending on the area. While panels across the United States add an average 4.1 percent to the value, it varies depending on the market. Riverside in California offers a 2.7 percent premium, equating to $9,926 for a median-valued home. The New York metro area, however, offers a 5.4 percent premium for homes that equates to an extra $23,989 in value. Orlando in Florida and San Francisco also offered above-average returns on solar power.
Why is that? Zillow suggests it's because buyers want environmentally-friendly homes. In the Zillow Group Consumer Housing Trends Report, over 80 percent of buyers stated that energy efficiency was important in their home-buying decision.
But the prospect of big savings could also entice consumers to make the switch. Solar panels on a roof can effectively axe a whole monthly bill, making household finances easier to manage.
That was the experience of Amanda Tobler, one of the first people to own a Tesla Solar Roof. Tobler told Inverse that she had no regrets about buying Tesla's energy-harvesting tiles. Tobler paid $50,000 for a 2,000-square-foot roof after tax credits.
In the previous year Tobler spent around $4,000 on her energy bills, but the following year with the roof she paid $119.61 to stay connected to the grid, plus received $42.25 back for giving surplus energy to the grid. That means she spent just $77.36 for the whole year, saving around $3,922. On those figures, the roof will pay for itself after 13 years.
As the world looks to renewable energy to move away from fossil fuels, the price of clean energy is dramatically dropping. From 2010 to 2019, the benchmark global price for solar dropped 84 percent, while offshore wind droppped by over 50 percent and onshore wind by 49 percent. Michael Milken, chairman of think tank Milken Institute, stated in September that the price is dropping below traditional fuels so fast that "it isn't just an argument of environment, it's now just pure economics."
Beyond a wishful addition to an existing home, the economics of solar for the average homeowner could make adding panels a no-brainer.