Nancy Drew, 'Her,' 'Watchmen': 5 timely weekend streaming shows & movies
5 streaming recs to get you through the weekend.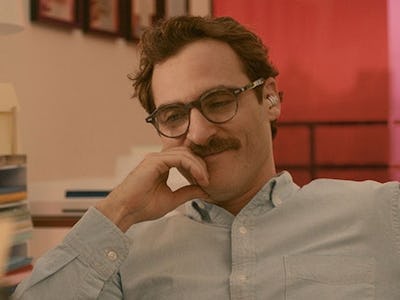 Joaquin Phoenix was excellent in Joker, but the film's amoral message requires a palate cleanse. And with Jexi — a goofy new film in which Adam DeVine has an extreme relationship with his phone — out this weekend, there's never been a better time to watch Phoenix in Her instead. If you're looking for something a little less serious, we've got plenty more streaming recommendations to consider this weekend.
This is Multiverse, your essential source to the best streaming shows and movies. I'm Corey Plante and here are this weekend's top streaming recommendations from the Inverse entertainment crew:
This is a recreation of Inverse's twice-weekly newsletter, Multiverse. Sign up for free.
Head on over to The CW to solve supernatural mysteries with Nancy Drew
Nancy Drew is back — but she's a lot different from the young woman you grew up with. Adapted from the beloved mystery book series of the early 1930s, this updated CW series puts a much darker — and supernatural (but more on that later) — spin on a wholesome classic.
This cast is fresh-faced, albeit with a few familiar names like Nancy's dad Carson, played by Scott Wolf (Party of Five). Nancy herself is played by newcomer Kennedy McMann, who's updated the teen detective to feel a little less Betty Cooper and a whole lot more Veronica Mars as she sets out to solve a high-profile murder in her small town of Horseshoe Bay, Maine. If you're getting Stephen King vibes, well, there also happens to be a ghost lurking the town known as "Dead Lucy." As the lore goes, Lucy Sable died a few short hours after being crowned the town's "Sea Queen" and continues to haunt Horseshoe Bay years after her death. This ghost is out for revenge — and Nancy's father might just have something to do with Lucy's death.
Nancy Drew exists in a multiverse familiar to fans of Riverdale with its 1960s vibes and sexy teen drama. Throw in some Veronica Mars-style sleuthing and a handful of Easter eggs from the books and you've got yourself one hell of an entertaining show. — Chelsea
You can stream the first episode of Nancy Drew over on The CW's website. New episodes will be available to stream every Thursday.
Archer reboots the tribbles in two new streaming minisodes of Short Treks
If you've slept on the Star Trek renaissance that began in 2017 with Discovery, a great way to beam back in with a fairly small time commitment is with the anthology series of minisodes called Short Treks. First launched in 2018, Short Treks presents 10-15 minute self-contained stories, mostly set in the Discovery universe, though lately, things have expanded to broader Trek canon. And right now, there are two new Short Trek episodes worth streaming.
At New York Comic Con last week, the episode "Q&A" dropped, chronicling Spock's very first day on the USS Enterprise and tackling an old fan question: Why did the emotionless Spock occasionally have emotional outbursts on the original series? Written by novelist and Picard showrunner Michael Chabon and starring Rebecca Romijn and Ethan Peck, "Q&A" is a heartwarming subspace transmission to Trekkies everywhere.
And if that wasn't enough, this Thursday also saw the release of the latest Short Treks episode, "The Trouble With Edward." Starring H. Jon Benjamin (you know him as the voice of Archer and Bob Belcher on Bob's Burgers), this hilarious story reboots the origin of the fuzzy, adorable, and dangerous Trek aliens known as the tribbles. Think you know everything about the tribbles? Think again. This episode is a straight-up prequel to "The Trouble With Tribbles" and it's amazingly funny. Also, make sure you stick around for the post-credits scene. It's bizarre and wonderful. But is it canon?
Get on the train that never stops and watch Snowpiercer on Netflix
While it'll be another year before the Snowpiercer TV series debuts on TBS, the news coming out of New York Comic Con inspired me to watch the original movie by director and co-writer Bong Joon-ho. Snowpiercer is as relevant today as it was upon its release in 2013. With climate change a growing concern in the real world, the film feels uncomfortably realistic. And with Bong's latest movie, Parasite, hitting theaters next week, there's never been a better time to revisit the director's work.
In the dystopian future of Snowpiercer, a device meant to help fix the rapidly worsening climate crisis ends in disaster when it plunges the Earth into another ice age. Not to worry, though, because the remaining population has boarded a non-stop train around the world. The only problem is that the poor have been relegated to horrifying conditions at the back, and the only way to improve their quality of life is to fight their way to the front of the train in a series of brutal spectacles.
Snowpiercer is a masterclass in filmmaking. Bong Joon-ho captures society's conflicts perfectly, the lengths some will go to survive, and the atrocities inflicted on the poor if it means the wealthy continue living comfortably. It's powerful, compelling, and works as a fantastic action thriller centered on exploring the worst of humanity. — Mae Abdulbaki
Snowpiercer is available to stream on Netflix.
Zack Snyder's Watchmen is a glorious, bizarre mess
With HBO's Watchmen adaptation set to premiere in just over a week, now is as good a time as any to finally peep Zack Snyder's first adaptation if you haven't already. That's not to say this is a good adaptation; it's just one worth watching, because golly, what a bonkers movie it is.
A little over 10 years ago, Warner Bros. had the bright idea of getting the guy who made Frank Miller's 300 even more badass to direct a Watchmen movie based on the comic by Alan Moore and Dave Gibbons that whole-heartedly argued that comic book badassery is engulfed by ill-defined masculinity. The gamble paid off with mixed results.
While Snyder's film is visually spectacular and slavish to the original comic, its execution is woefully misguided. The original Watchmen was all about subverting mainstream comics to feature flawed human beings and unfeeling superhumans, but Zack Snyder's film argued: How freaking cool is all of that? Still, Watchmen is a movie that fans never thought could ever exist. Hollywood straight up made Watchmen in exactly the way fans thought they wanted. It's streaming now on DC Universe, a platform catered exclusively to DC fans. You honestly can't be more on the nose than that. — Eric
Swipe left on Jexi and rewatch Her instead
An awkward man disconnected from reality gets a new electronic device with a hyper-advanced artificial intelligence designed to make his life better, and the relationship that develops between the man and the disembodied voice comments in a provocative way on our addiction to technology. This is the plot to Jexi, a goofy romantic comedy starring Adam DeVine, in theaters this weekend, but it's also the setup for the infinitely better Her. Swipe left on Jexi and instead cuddle up with Alexa and Siri to watch Her at home on Netflix.
In Her, the always-excellent Joaquin Phoenix plays a man named Theodore who falls in love with his new A.I. called Samantha (voiced by Scarlett Johansson). Samantha learns at an exponential rate, and the way she evolves over the course of the film to fill the emotional void in Theodore's life is fascinating.
Director Spike Jonze sells this weird premise with nothing short of delicate tenderness. Her won Best Original Screenplay at the 86th Academy Awards, and with good reason. Jexi takes a much more lighthearted approach that probably won't win it any awards. So, if you need a detox after seeing Joaquin Phoenix in Joker last week, this might be just the thing. — Corey
Her is available to stream on Netflix.
This is a recreation of Inverse's twice-weekly newsletter, Multiverse. Sign up for free.