'Snowpiercer' Casting Confirms Timeline of the TV Show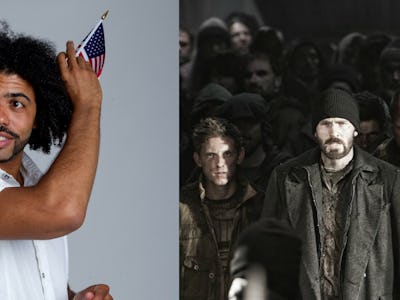 New York Post, SnowPiercer
One of the founding fathers of the United States is going to be sniffing industrial waste and tending to his pet rats in 2021. Daveed Diggs — best known for his roles as Thomas Jefferson and Marquis de Lafayette in the award-winning musical Hamilton — has been cast as the lead in TNT's upcoming Snowpiercer spin-off show.
As announced Wednesday, Diggs will play a soft-spoken, drug-addled passenger named Layton Well, "a prisoner barely surviving the harsh conditions in the tail end of the train," as reported by Deadline. "A quiet thinker who spends his days sniffing the industrial-waste-turned-drug Chronole and tending to his cage full of rats, Layton becomes a reluctant participant in a struggle that could upend life on the train."
Based in the same world as Bong Joon-ho's 2013 film of the same name, starring Chris Evans (Captain America), Octavia Spencer (Hidden Figures), John Hurt (Tinker Tailor Soldier Spy), and Tilda Swinton (Only Lovers Left Alive), Snowpiercer will take place seven years after the train's initial launch — after Gilliam (Hurt) sacrificed his limbs to keep a young Curtis (Evans) from eating his future friend Edgar (Jaimie Bell) as a baby.
The events of the Snowpiercer film went down in 2031, 17 years after the train's 2014 take off. With the television show happening seven years into its globe-circling journey, that means Diggs and the rest of the cast will be causing trouble in 2021. Any revolt they stage is bound to go bad, as Curtis was the first to get to the front of the train.
But the television show taking place 10 years before the events of the film means that it's likely Diggs's Layton will interact with characters from the film. After all, no one new ever boarded the train after its launch, and Wilford and Curtis led the crew at the back of the train where Layton lives.
So, now the question is: Who's going to play a young Chris Evans?
Snowpiercer will be helmed and executive produced by Doctor Strange director Scott Derrickson, joined by executive producer and writer-showrunner Josh Friedman, along with the original film's Bong Joon-ho, Park Chan-wook, Lee Tae Hun and Dooho Choi.
No release date for Snowpiercer has been announced.