Netflix Plans Its Next Original Movie With Bong Joon-ho's 'Okja'
A $50 million monster movie from the 'Snowpiercer' director, with Brad PItt's production company, Plan B.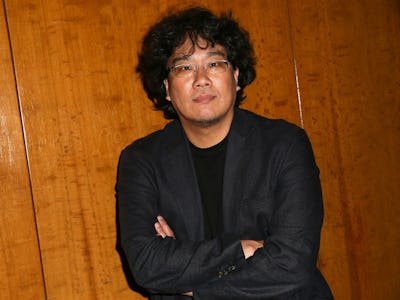 Getty Images
Deadline is reporting that streaming service giant Netflix is about to get a bit more ambitious. After debuting its first foray into original filmmaking with director Cary Fukunaga's Beasts of No Nation last month, it just lined up its next movie.
Netflix and Brad Pitt's production company Plan B will produce Okja, the next movie from Korean filmmaker Bong Joon-ho, who most recently directed the English-language post-apocalyptic sleeper hit Snowpiercer. The budget for the new movie will reportedly be $50 million, $10 million more than Snowpiercer cost and $44 million more than the budget for Beasts of No Nation.
This is a big jump and an even bigger investment for Netflix, but the movie looks to be attracting appropriately big names. The film is set to star Tilda Swinton, Jake Gyllenhaal, Paul Dano, Bill Nighy, and Kelly MacDonald.
"It really is a fantastic opportunity for me as a filmmaker," Bong said in a statement to Variety. "For Okja, I needed a bigger budget than I had for Snowpiercer and also complete creative freedom. Netflix offered me the two conditions that are difficult to have in hand simultaneously."
The movie seems to be a Beauty and the Beast-type monster movie that Bong will spin his own way. He previously directed the Godzilla-esque movie The Host in 2006. In the same Variety post, Bong said, "The film is about a warm friendship between a country girl and a brute with stories." Later he said, "I want to depict the two characters' bizarre journey and adventure across the tough world in an original fashion."
While this is good news for people who enjoy Bong's eclectic filmography and Netflix's impressive slate of movies, which also includes a sequel to Crouching Tiger, Hidden Dragon, this is also a calculated move on the streaming service's part. Okja will go into production next year for release sometime in the first half of 2017, which is enough lead time to drive subscribers in Asia as Netflix plans a South Korea launch sometime in 2016.