Joaquin Phoenix says he's on board for a potential 'Joker' sequel
If the conditions are perfect, that is.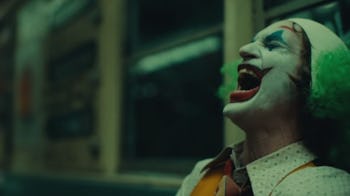 Warner Bros. Production
The leadup to Joker has seen director Todd Phillips be as emphatic as possible about the future of this incarnation of the character. He's said repeatedly that the film is a self-contained story with no connection to the broader DCEU. But this hasn't stopped speculation as to whether or not there may be a sequel. Phillips also said that if he has an idea for a sequel in the future and the studio is willing to make it, he may be down for a second outing with the Joker. With the film's opening weekend smashing box office records, a sequel seems like more of a possibility.
Star Joaquin Phoenix (who has never acted in a sequel before, actually) recently said he's more than open to revisiting the character. "Honestly, I can't stop thinking about [the character]," he said in an interview with Peter Travers. "I talked to Todd a lot about what else we might be able to do, in general, just to work together, but also specifically, if there's something else we can do with Joker that might be interesting. So, it ended up being a dream role. It's nothing that I really wanted to do prior to working on this movie."
There is, it seems, a first time for everything. It's not a greenlight by any means, and Phoenix or Phillips could easily backtrack on this. Nonetheless, it's a good sign for fans hoping to see the character's future after the relatively open ending the film provides.
A lot of stars will have to align in order for a second Joker to go into production. Between now and then (if that day ever comes, that is) it may be best to instead hope that the film's success leads studios to open their doors to new and inventive takes on established superhero characters. We now have concrete evidence that a comic book movie's third act doesn't need a bevy of CGI or a post-credits scene setting up a sequel to succeed. Hopefully, that will be the primary takeaway — not that there needs to be a Joaquin Phoenix Joker Cinematic Universe.
*Joker is in theaters now.