Skip 'Joker' this weekend to stream hits like 'Batman' or 'Blade' instead 
I come from the future (aka a press screening) to tell you that 'Joker' is bad. Here's what you should watch this weekend instead.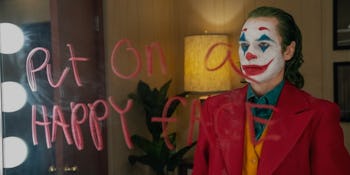 With it being October, this weekend is full of witches, gangsters, vampires, and aliens in skintight suits. Joker is now in theaters, but if director Todd Phillips' vision of the Clown Prince of Crime isn't to your liking, we have several alternatives — magic, crime, and the supernatural — to whet your appetite.
This is Multiverse, your essential source for the best streaming shows and movies, delivered each Thursday to your inbox. I'm Corey Plante. Here are this weekend's top five streaming recommendations:
Practical Magic
Peaky Blinders Season 5
A James Bond marathon
Blade Trilogy
Superman Returns
Batman: The Animated Series
This is a recreation of Inverse's twice-weekly newsletter, Multiverse. Subscribe for free!
Cast some Practical Magic on your favorite streaming device
Before there was Frozen, there was Practical Magic. I know what you're thinking: How could these two films possibly be similar? Magical elements aside, this '90s classic is first and foremost about the powerful bonds of sisterhood. Do you get the commonality now?
Practical Magic takes place in a small coastal island off of Massachusetts after a young (and pregnant) woman is exiled there for being a witch. Heartbroken and lonely, she casts a spell to never fall in love again, cursing herself and the entire future lineage of Owen women. As the curse goes: "When you hear the sound of the deathwatch beetle, the man you love is doomed to die."
Fast-forward a few generations to the bewitching sisterly duo played by Nicole Kidman and Sandra Bullock — before they became icons. After their mother dies of a broken heart following the cursed death of her husband, the sisters are sent to live with their two aunts (one of whom is played by Academy Award winner Stockard Channing) in a haunting, New England-style Victorian home.
If you weren't already sold on the stellar casting, stay for midnight margaritas, blood oaths, and Rizzo. Witchy vibes aside, Practical Magic is about celebrating women and what it means to be anything but normal. — Chelsea
Practical Magic isn't currently available for streaming, but you can rent it over on [Amazon Prime](https://www.amazon.com/Practical-Magic-Sandra-Bullock/dp/B000GOLTTQ/ref=sr_1_1?keywords=practical+magic&qid=1570114217&s=gateway&sr=8-1).
It's time to throw down again with the "PEAKY F#&KING BLINDERS!"
There's no British period piece crime drama more compelling than BBC's Peaky Blinders, which follows the dubious Shelby family and their criminal empire as led by Tommy Shelby (Cillian Murphy). The series begins in 1919, shortly after World War I, and features a cast of charmers with compromised morals pursuing power and wealth. Breaking bad never looked so good as it does when the Shelby brothers have undercuts and caps lined with razor blades for fighting.
Over the course of four seasons, we've seen Tommy transform a humble Birmingham family gang into a veritable economic and political empire. He's been in conflict with rival gangs, Italian mobsters, and even Russian spies. Season 5, which arrives on Netflix October 4, explores Tommy's new role as a member of Parliament working directly for Winston Churchill, making Peaky Blinders feel like a gripping alternate reality more than ever before.
Oswald Mosley is the savvy villain of Season 5. A member of parliament and supporter of a fascist revolution, Mosley becomes a threat to Churchill and, by proxy, Tommy as well. Britain never succumbed to fascism in real life, but is that a different story in the world of Peaky Blinders? You'll have to watch to find out. — Corey
Shaken, stirred, and full of crazy gadgets: 007 movies pre-Craig all streaming for free on Pluto
Before Daniel Craig took over the role of slick secret agent 007, the superspy usually crept into your living room via holiday movie marathons, in which the exploits of James Bond happened in giant 24-hour blocks on TBS. The outdated jetpacks and underwater cars make Bond feel practically steampunk by today's standards, but that doesn't make the retro tech of the old movies any less cool. If you don't mind taking a trip down memory lane into the "sophisticated" world of fake spies from the '60s, '70s, and '80s, then there's kind of an amazing free streaming option for Bond movies right now.
As of October 5, PlutoTV has announced it will be streaming all the James Bond movies released prior to 1995, plus two non-official Bond flicks. This means you've got 16 canon James Bond movies, from Dr. No through License to Kill, plus the spoof version of Casino Royale and the bizarre non-canon Sean Connery movie, Never Say Never Again, which was helmed by everyone's favorite Empire Strikes Back director, Irvin Kershner. (Really!) Basically, this is everything up until Timothy Dalton, so that means no Pierce Brosnan movies and no Daniel Craig.
PlutoTV previously ran free retro Doctor Who marathons, so if you caught those, then you know the drill here. These marathons come with commercials, and you can't control which movie is playing at any given time. But really, in a sense, that might be the best way to watch old Bond movies: They're unwieldy, choppy, and remind you of being way younger than you are now. The films aren't always great, but as Sean Connery's Bond says in Goldfinger, they're always "shocking, positively shocking." — Ryan
Ice skate uphill with the Blade trilogy on Hulu
When Oscar winner Mahershala Ali walked on stage during the Marvel Studios panel at San Diego Comic-Con in July and put on a baseball hat that read "Blade," fans of the Daywalker vampire slayer lost their minds. Finally, the series that really, truly opened the doors for 21st century superhero movies (suck it, X-Men) is coming back to life, this time in the Marvel Cinematic Universe. To brush up, you can check out the original Blade trilogy starring Wesley Snipes on Hulu as of October 1.
Based on the still-pretty-obscure Marvel Comics superhero, 1998's Blade, 2002's Blade II, and 2004's Blade: Trinity follow Wesley Snipes as Blade, a slick vampire hunter whose mixed human-vampire blood allows him to walk in the light of the sun. A cult favorite character from Marvel's darker supernatural corners, Blade was first introduced in the pages of Marvel's horror series The Tomb of Dracula. Snipes picked Blade in the '90s when he failed to get his actual dream project, Black Panther, off the ground.
Preceding even the 2000 box office hit X-Men, Blade was the first true superhero blockbuster that paved the way for similar movies in the 21st century. You'll find no argument for me, and you can see for yourself on Hulu. — Eric
Watch the entire Blade trilogy on Hulu.
Brandon Routh's turn as the Man of Steel in Superman Returns demands a rewatch
Superman Returns has a bad reputation for many reasons — namely, for being directed by Bryan Singer and starring Kevin Spacey, both of whom have been accused of sexual assault. Even when separating the film from Singer and Spacey, Superman Returns wasn't exactly heralded as the best Superman movie or anything, either. In fact, it received a ton of mixed reviews from several critics at the time of its release in 2006 (though it was admittedly not that bad, c'mon).
Why am I telling you to rewatch it? In short, the big reason to watch Superman Returns is primarily for Brandon Routh's take on Kal-El. The actor turned in an understated and earnest performance as Clark Kent/Superman, and he was never given enough credit for it.
With the news that Routh will be suiting up as Kingdom Come Superman (an alternate and evil version of Superman) for the Arrowverse crossover "Crisis on Infinite Earths," there's never been a better time to rewatch Superman Returns, if only to see the marked differences between his former version and the evil counterpart he'll play in "Crisis." Bonus: Routh gets to sport his graying hair. — Mae
Skip Joker and rewatch these classic Batman: The Animated Series episodes instead
I come from the future (aka a press screening) to tell you that Joker is bad. The highly anticipated — and already controversial — movie from The Hangover trilogy director Todd Phillips stars Oscar nominee Joaquin Phoenix as a mentally unstable man in a beautifully imagined, crime-ridden 1970s Gotham City. He slowly transforms into the Joker, unintentionally sparking a class war as he spirals into insanity. Unfortunately, it's also a bit of a dumpster fire, or as my colleague Eric Francisco put it more eloquently in his review: "Joker is just plain misery porn, with an ending that provides no big-picture meaning to one man's chaotic descent."
So why waste $15 when you can stay home and experience one of the best versions of the Joker in DC history? Batman: The Animated Series still holds up as one of the best adaptations in Batman history, and a big part of that is Mark Hamill's iconic voice-acting as the Clown Prince of Crime. Even better, thanks to the DC Universe streaming app, you can find the entire series in one place. There's even a free trial. — Jake
Once you're all set up, here are five classic Joker episodes of Batman: The Animated Series that are way better than the new movie:
"Make 'Em Laugh" — A Joker origin story that clearly influenced Todd Phillips' *Joker.
"Joker's Favor" — This episode marks Harley Quinn's first ever appearance, not just in The Animated Series, but in any Batman story.
"The Laughing Fish" — A classic goofy Joker scheme that involves a patent for mutant fish and a hairbrained scheme to make millions.
"World's Finest" — Joker vs. Superman. Need I say more?
"Mad Love" — This classic Batman episode reveals Harley Quinn's backstory while also confirming that the Joker's sidekick is way more capable than the boss himself.
Bonus! Mask of the Phantasm — This feature-length Batman animated movie includes a sequence where Batman chases Joker through an abandoned World's Fair. It's awesome.
Don't forget to subscribe to the Multiverse newsletter!