Tesla Submarine Car: Could Elon Musk's Half-Joke Actually Become a Reality?
The CEO revealed Tesla has a design sitting around.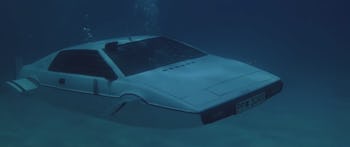 Movieclips/YouTube
Tesla could soon take to the high seas. During the company's annual shareholder meeting on Tuesday, CEO Elon Musk unexpectedly revealed that Tesla has a design for an amphibious car, similar to one driven by Roger Moore in the James Bond movies.
"It's funny you should mention that," Musk said in response to an audience question about Tesla's plan for a water-friendly vehicle. "We do actually have a design for a submarine car, like the one from The Spy Who Loved Me, the Lotus that turns into a sub."
It's perhaps one of Tesla's more outlandish designs for a vehicle. Musk has teased projects in the past that have eventually surfaced as full-fledged products: his plans for a "cyberpunk" pickup truck, set for a full unveiling later this year, is just one of his many passion projects. Other plans, like an electric urban transporter, fell to the wayside as other projects took priority.
Musk even went as far as to suggest that, unlike some of his other designs, Tesla could build one based on the design at some point.
"It would be a bit of a distraction I think," Musk said. "But maybe we'll make one as a show car at some point, that would be really fun."
Amphibious vehicles have made a name for themselves among tourist destinations. Dublin has the Viking Splash Tours that looks like a boat on wheels that drive into the sea, and Philadephia used to have the Ride the Ducks tour until operations ceased three years ago. In the same city, Dennis Reynolds tried to sell his submerged Range Rover as a car-boat in It's Always Sunny in Philadelphia. But none of these quite match the allure of a full-blown, shooting-the-bad-guys-from-underwater Lotus like the one driven by James Bond. Musk's design is unlikely to feature rockets, but it's easy to see why he's taken by the idea.
Tesla Submarine Car: Could It Actually Launch?
Unlike some of Musk's other musings, the CEO seemed upbeat about the prospect that such a car could one day arrive in the marketplace.
"I actually thought that was the coolest thing I'd seen in a movie, so I actually have that, the one from the movie," Musk said. "That one cannot actually transform because it has fins where the wheels are, that's obviously not going to work. But if you make it a bit bigger then you can actually have a submarine car. It's technically possible."
That's a slightly warmer tone than he's taken on other ideas. His idea for an electric jet dates back to at least 2009, even getting a shout out in 2012's Iron Man 2, but Musk admitted in September 2018 that batteries are not dense enough yet to support a plane that could overcome gravity — though that situation could change with the Maxwell Technologies acquisition, thanks to the firm's powerful batteries.
Musk has also intimated that he is skeptical about trying to invent an entirely new class of vehicle. He's been famously downbeat on the idea of a flying car, noting in a February 2017 interview that "if somebody doesn't maintain their flying car, it could drop a hubcap and guillotine you." This led in part to Musk starting The Boring Company, digging down to create traffic space instead of taking to the sky.
The fact that Musk didn't dismiss the idea out of hand may suggest he sees some merit to diving down with a car, but he did question the product's market value on Tuesday.
"I think the market for this will be small," Musk admitted, to roars of laughter. "Small but enthusiastic."
With Tesla planning robo-taxis, a new China Gigafactory, a Model Y SUV and a high-end Roadster, the firm has a lot of projects on its plate already. Musk may be right about a submarine car being a "distraction."