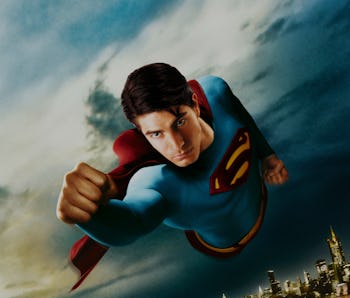 Entertainment
Brandon Routh Returns as Superman in "Crisis on Infinite Earths" Crossover
The 'Legends of Tomorrow' star pulls double duty in his return to the role of Superman for the 2019 crossover special.
Warner Bros.
Tyler Hoechlin is Superman. Brandon Routh, way back in 2006, was also Superman. The two actors will play both of their Supermans in the upcoming annual DC TV crossover, "Crisis on Infinite Earths" which could, in a historic way, bridge the gap between DC's films and TV shows as Routh reclaims his movie role on the small screen.
On Friday, ahead of an expected announcement at San Diego Comic-Con this weekend, Deadline reported that Brandon Routh will reprise his Superman from the 2006 film Superman Returns, for the five-part crossover special "Crisis on Infinite Earths." The special is set to air in the winter of 2019 and 2020.
Routh retaking the mantle of Superman could be a huge connecting bridge between DC's films and the TV continuities, which have never crossed over before. Routh's role in Superman Returns was itself a continuation of the early Richard Donner movies.
Routh will appear alongside current Superman actor Tyler Hoechlin, who has recurring appearances in the Arrowverse as the Man of Steel. Deadline reports that Routh and Hoechlin will appear "in different time frames," suggesting the two will not meet but will play a crucial role in the plot.
It is unknown if Routh will play his exact role from Superman Returns or if Routh is merely playing another Superman as an homage to his film. But given the prominence of time travel and alternate dimensions, it's easy to fathom how multiple Supermen can exist in the same five-part episode.
S I Read more: 5 "Crisis on Infinite Earths" Questions That Could Change the Arrowverse THIS
More will presumably be revealed at Comic-Con this weekend. The panels for Arrow, Batwoman, The Flash, Supergirl, and Black Lightning will be held on Saturday, July 20, in Ballroom 20.
Routh currently stars in the Arrowverse franchise as a different character than Superman: Ray Palmer, a.k.a. "The Atom" in Legends of Tomorrow. Unlike Clark Kent, Ray Palmer is a brilliant, if clumsy genius who has lost his corporate empire. As a member of the Legends, he fights alongside other misfit superheroes to protect Earth's timeline from going all wonky doodle.
But before that, he was Superman. In a continuation/reboot of Richard Donner's Superman films (picking up years after Superman II), Routh took over from Christopher Reeve as Clark Kent/Superman, who returns from years in exile to discover that Lois Lane (Kate Bosworth) has a son that's not his, or so he thinks. Meanwhile, he must stop yet another plot from Lex Luthor (Kevin Spacey).
Read more: Batwoman Will Look More Like Joker Than the Arrowverse
"Crisis on Infinite Earths" is expected to be the biggest crossover in the franchise's history, after it was announced in the credits of last year's "Elseworlds" special. It will also be the final event to feature characters from Arrow, which will end with its eighth season this fall.
The "Arrowverse" franchise has put on crossover events since 2014. The stories typically involve all the existing DC shows on The CW: Arrow, The Flash, Legends of Tomorrow, and Supergirl. (Black Lightning, another DC show on the same network, is not currently involved with the crossover.)
This year's special will be a loose adaptation of the seminal 1984 DC Comics crossover of the same name, Crisis on Infinite Earths, which left seismic changes to the then-current canon of the DC Universe. Fans are expecting the TV crossover to leave a similar impact, potentially condensing the "multiverse" into one single, coherent timeline. I mean, nothing is coherent when it comes to alternate realities, but for several years, The CW has really tried.
"Crisis on Infinite Earths" will begin airing on The CW in December 2019 and will conclude in January 2020.*