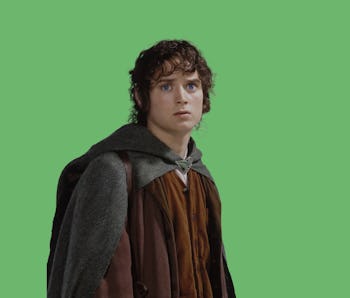 Entertainment
The 11 Best Fantasy Movies and Shows on Netflix in September 2019
"Sure I know a Baggins! Frooooooodo Baggins!"
New Line Cinema
Fantasy fiction takes us to mystical realms where heroes battle villains to save the world through strength of will and bravery — like Dark Crystal or The Lord of the Rings — but in other cases it means taking a fantastical twist on a more realistic world, like in The Magicians or Chilling Adventures of Sabrina. Sometimes we dip into horror, sometimes we dip into the afterlife.
Lord of the Rings author J.R.R. Tolkien would refer to as escapist literature. Just because it comes in video format doesn't mean it's not "literature," right?
If you're looking to step into mystical realms full of magic and the supernatural, here are the 11 best pieces of fantasy on Netflix.
11. The Dark Crystal: Age of Resistance
New as of August 30, The Dark Crystal: Age of Resistance returns to the world of Thra for a prequel series to Jim Henson and Frank Oz's cult 1982 puppet fantasy film, The Dark Crystal. Generations before the original movie, three "Gelfling discover the terrible secret behind the Skeksis' power, they set out on an epic journey to ignite the fires of rebellion and save their world." What's a Gelfling? Who's a Skeksis? It really doesn't matter.
The Dark Crystal always had barely comprehensible, impenetrable lore with its magical vocabulary, but those puppets really pull at the heartstrings. Age of Resistance is a mesmerizing and beautiful experience rife with beauty, heart, and humor.
10. She-Ra and the Princesses of Power
This Netflix reboot of the 1985 Filmation series feels like a woke-AF Dungeons & Dragons adventure. In it, the teenager Adora inspires a rebellion against the evil Hordak and his Horde with a team of different Princesses of Power. Everyone has their strengths and weaknesses. Similar to other animated series like Avatar: The Last Airbender, this one's a mature enough fantasy adventure for older audiences to thoroughly enjoy while still managing to remain kid-friendly.
Season 3 of She-Ra and the Princesses of Power just hit Netflix in early August, so consider that reason enough to move it higher up on your list.
9. Disenchantment
Longtime fans of The Simpsons who preferred Futurama's approach to science fiction will find a lot to love in Netflix's Disenchantment from Matt Groening. The fantasy series feels like Homer Simpson got a little too drunk and then thought he might try doing a Game of Thrones recap podcast — then somebody went and animated the whole thing. If you find Groening's style of animated comedy a bit outdated or, forgive the vague pun, groanworthy, then maybe steer clear.
Broad City star Abbi Jacobson voices the lead character, Princess Tiabeanie — "Bean" for short. She's disenchanted with her life as a teenaged princess slated for marriage when all she wants to do is rabble-rouse and drink. Her sidekicks include an elf named Elfo (Nat Faxon) who is similarly bored with his home among the other elves. (Think less Legolas and more Keebler when it comes to these guys.) There's also Bean's personal demon Luci (Eric Andre), assigned to corrupt her by some distant villains. Their misadventures get as bizarre as you might expect.
Disenchantment Part 2 will arrive on Netflix September 20.
8. The Good Place
In what genre do you place a show about people in the afterlife navigating the harrowing social circles that exist there? The Good Place is a brilliant enigma of modern television, a supernatural sitcom about regular people trying to survive post-death. Kristen Bell stars as Eleanor Shellstrop, a genuinely bad person who may have accidentally wound up in the idyllic titular "good place" after her death.
But as she makes friends and explores the afterlife, she slowly realizes that death might just be even more complicated than life. Like Parks and Recreations before it and The Office before that, The Good Place is NBC's widely-loved comedy series. Except this one's unlike anything else that's come before it.
The Good Place Season 3 only just hit Netflix in late August.
7. Chilling Adventures of Sabrina
Most millennials probably remember Sabrina the Teenage Witch, a light magical comedy series about a young woman who learns she's a half-witch from her witch aunts, and they live with a sassy black cat that can talk. Netflix's Chilling Adventures of Sabrina is something totally different.
Though it has almost all of the same characters, Chilling Adventures is a much darker tale based on the Archie Comics series of the same name. Season 1 explores the dark adventures of Sabrina Spellman, a half-mortal, half-witch who lives with her two aunts and cousin in the quiet — but spooky — town of Greendale. On her 16th birthday, she's supposed to sign the Book of the Beast, surrendering her soul and free will to the devil in exchange for power.
But when she rejects this life, instead choosing to live in both the mortal and witch worlds, the supernatural threats keep coming and they don't stop coming. All of it is devilishly good fun.
6. The Magicians
What up nerds. What if you took Harry Potter, but instead they're grad school students and they, get this, have sex and do drugs!? That's essentially the starting premise of Lev Grossman's best-selling book trilogy. Like Game of Thrones long before it, Syfy's television adaptation has long outpaced the books and explored new avenues in interesting ways. It'll continue to do so as Season 5 begins this January.
Quentin Coldwater is an anxious grad student who enrolls at Brakebills College for Magical Pedagogy, and he's our way into this bizarre magical universe that feels like an alternate reality to our own, a modern fantasy infused with magic. As the series evolves over time, it broadens into an ensemble adventure where a group of friends tests their bonds and fights against all manner of gods and monsters that threaten them — and the rest of humanity.
5.The Shannara Chronicles
In this fantasy universe that actually takes place millennia after the downfall of traditional human society, several unlikely heroes join together to prevent a big bad from unleashing a demon army upon the world.
A television adaptation of Terry Brooks' The Sword of Shannara trilogy, The Shannara Chronicles feels exactly like the type of fantasy series you might see on The CW, except this comes from MTV, of all places. Attractive young adults in peril, going on adventures and encountering fantastical threats always makes for engaging, pulpy television. It's not always the smartest storytelling out there, but The Shannara Chronicles is good fun for fans of Brooks' stories.
4. Lord of the Rings: The Two Towers and Return of the King
For any real nerds out there, Peter Jackson's Lord of the Rings movie trilogy deserves a rewatch marathon at least once every other year, and for the first time in a long time, Netflix is about to give us something very close to that opportunity in one streaming platform. And because this comes just a few short months after the Tolkien biopic hit theaters, you should fast-track your next bingeful journey to Middle-earth.
On September 1, Netflix will add The Two Towers and Return of the King to its library. Why couldn't they spring for Fellowship of the Ring, too? Maybe because they're spending so much money keeping Friends until the end of the year. They really bungled this for sure.
Lord of the Rings is the epic trilogy written and published by J.R.R. Tolkien, a veteran of the First World War who studied and taught at Oxford University. All modern fantasy owes everything to Tolkien's depiction of Middle-earth. Everything from Dungeons & Dragons to Game of Thrones wouldn't exist without Tolkien. And Peter Jackson's faithful and inspired trilogy of movies stands as one of the best novel-to-film adaptations of all time.
For anyone who complained loudly on the internet about the Great Super-Dark Battle of Winterfell in the final Game of Thrones season, maybe you should revisit the dazzlingly well-lit Battle of Helm's Deep in The Two Towers. That's only one of many reasons to rewatch these fantastic films.
Lord of the Rings: The Two Towers and Return of the King will be on Netflix as of September 1.
3. Mary Poppins Returns
Despite a few vague and unsettling comparisons to It's Pennywise the Dancing Clown in how she entices children named Georgie, Mary Poppins is a cherished icon of Disney's stories history, and the 2018 continuations of the story, Mary Poppins Returns, is a magical spectacle.
Decades after her first visit, Poppins swoops back into the real world to help the Banks siblings and Michael's children at a trying time. Full of magic, music, wonder, and Lin Manuel Miranda, Mary Poppins Returns is fun for the whole family. It also just might be the single last Disney film to be on Netflix before they all disappear forever to join Disney+ this November.
2. Stardust
Starring Daredevil's Charlie Cox, Stardust (2007) is a whimsical fairy tale based on a Neil Gaiman story in which Cox's Tristan travels into the realm of fairies to retrieve a fallen star — but he finds that the fallen star is a woman!
Yes, it's predictable when Tristan instead falls in love with the woman/fallen star/fairy named Yvaine. But Gaiman's stories always have a strong feeling of originality that's always refreshing. Even Roger Ebert called Stardust "fun."
1. Mary and the Witch's Flower
Anime is chock-full of oddly specific sub-genres that make Netflix sub-categories look lame by comparison. Mary and the Witch's Flower is a 2017 Japanese anime feature film all about a school for witches and wizards. (Yes, magic schools are a thing in anime.) The art and animation style of Mary and the Witch's Flower only enhances the sense of magicality and theatricality to the whole thing.
This is the debut film of Studio Ponoc, veterans from Studio Ghibli, a big name in the anime film business. Mary is a bright young girl bored with her life as a regular person in a secluded community while her parents are busy, but when she finds an incredibly rare and magical flower by accident, it sends her on a perilous and magical journey. A rich and colorful tale, Mary and the Witch's Flower should be essential viewing for any fans of anime fantasy.