Musk Reads: Starship's grand unveiling
Plus, NASA holds SpaceX's feet to the fire on Crew Dragon; and when will Neuralink start wiring up brains?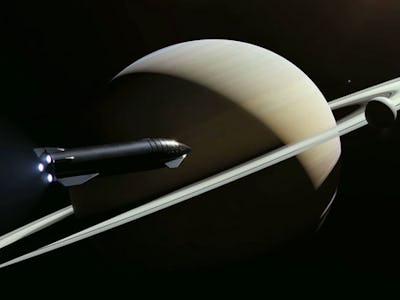 Starship gets a grand unveiling; NASA holds SpaceX's feet to the fire on Crew Dragon; and when will Neuralink start wiring up brains? It's Musk Reads: SpaceX Edition #108.
A version of this article appeared in the "Musk Reads" newsletter. Sign up for free here.
Musk quote of the week
"It appears that consciousness is a very rare and precious thing, and we should take whatever steps we can to preserve the light of consciousness."
SpaceX Starship
The Starship Mk1 prototype is here. On a windy night at the Boca Chica launch facility in Texas on Saturday, Musk unveiled the first full-size prototype of the ship that may help kickstart a human city on Mars. Saturday's presentation, held on the 11-year anniversary of SpaceX's first flight to orbit, showed how the rocket has transitioned over the past few years to its current stainless steel design, fitted with three Raptor engines powered by liquid oxygen and methane. The ship itself can fit six engines, while the companion Super Heavy booster used to lift off from Earth can use up to 37 engines.
Here are some of the biggest tidbits about SpaceX's timeline that we learned from the event:
A 20-kilometer flight with Mk1 could come in one or two months.
The Mk2 should arrive in one or two months, Mk3 in three months, and Mk4 in four or five months. The team will likely work on a Super Heavy booster prototype after Mk4.
The second full-size prototype flight could use the booster to reach orbit. This could use the Mk3, Mk4, or Mk5.
SpaceX aims to make one Raptor every day by the first quarter of 2020. The firm currently produces a new engine every eight to 10 days.
In short, production is about to get a whole lot faster. Both Florida and Texas facilities will be working to build "a whole stack" of Starships.
In other SpaceX news…
What about the Crew Dragon? SpaceX's capsule, designed to ferry NASA astronauts to and from the International Space Station, faces a race against time as the agency seeks to launch astronauts from the United States.
NASA Administrator Jim Brindenstine commented on SpaceX's announcement ahead of the event:
"I am looking forward to the SpaceX announcement tomorrow. In the meantime, Commercial Crew is years behind schedule. NASA expects to see the same level of enthusiasm focused on the investments of the American taxpayer. It's time to deliver."
Brindenstine later retweeted a comment from Ars Technica space editor Eric Berger: "I would not read this as a shot to SpaceX, but rather a reflection of Jim's desire to see all NASA contractors meet their deadlines for government contracts."
When asked about the comments during the presentation, Musk responded:
"From a SpaceX resource standpoint, our resources are firmly on Falcon and Dragon. Let's be clear, it was really quite a small percentage of SpaceX that did Starship. Less than five percent of the company, basically. The really hard part that requires a lot of resources is optimizing something past the initial prototype phase and bringing it into volume production. To be clear, the vast majority of our resources are on Falcon and Dragon, especially Crew Dragon."
The race to send astronauts to the space station continues.
What's next for SpaceX: SpaceX is set to launch another set of 60 Starlink satellites for its internet connectivity constellation no earlier than October 17.
Musk Reads mailroom
Edward Cox writes:
How are these vehicles and the intended colony on the Moon and Mars going to deal with the radiation problem. No magnetosphere and no Van Allen Belts seems to amount to high and potentially debilitating and lethal radiation dosage. Is there any work being done on shielding, hardening of vehicles or even an electromagnetic field shielding device of some kind? Wouldn't do to send all the potential people up there only to succumb to radiation impacts to their longevity and DNA.
Musk has taken a rather relaxed attitude to radiation, describing it as "not a big deal" in 2016. On radiation shielding for the ship, Musk suggested in October 2018 that he had a solution in mind: "Ambient radiation damage is not significant for our transit times. Just need a solar storm shelter, which is a small part of the ship. Buzz Aldrin is 87." Saturday's Starship presentation update did not provide much extra detail on this area.
Others are a touch more concerned about the amount of radiation for the groundbreaking mission. A 2017 study suggests the radiation could be twice as strong as previously thought. Rice University professor Scott Solomon told Inverse in May that the radiation could alter DNA faster than on Earth, meaning humans mutate to develop Mars-specific attributes faster than before.
With all eyes on SpaceX's Mars mission, radiation could become one of the key questions about the city's future development.
Steve writes:
How does one volunteer as a test subject for the neuro-implant? Any ideas?
Neuralink, Musk's brain linkup firm detailed in July, hints at a bold vision of the future where humans link to artificial intelligence and create a symbiotic relationship. The idea, Musk explained, is that humans won't get left behind as super-smart machines accelerate into the future.
The immediate vision, however, is to prove that the N1 chip designed to link with the brain can provide tangible medical benefits. The goal is, before the end of next year, that Neuralink will hold a clinical study trial for patients with quadriplegia due to C1-C4 spinal cord injury. This will implant four N1 chips that can interact with a smartphone, mouse, and keyboard via Bluetooth.
The company's cautious approach, keen to demonstrate the medical benefits of brain implants, suggests Neuralink is unlikely to take non-medical volunteers any time soon. Musk stated in April 2017 that it could be eight to 10 years before people without disabilities can volunteer for the chip.
Video of the week
Starship trip gets simulated.
The Elonporium
Subscribe to Inverse Loot and learn about these deals first.
The ultra-fine print
This has been Musk Reads: SpaceX Edition #108, the weekly rundown of essential reading about futurist and entrepreneur Elon Musk. I'm Mike Brown, an innovation journalist for Inverse.
A version of this article appeared in the "Musk Reads" newsletter. Sign up for free here.