24 new and returning TV shows to get excited for this fall
From Netflix's 'The Witcher' to 'The World According to Jeff Goldblum.'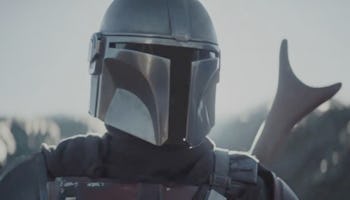 Lucasfilm
Summer is almost over and you know what that means: No, put your pumpkins away, we're talking about fall TV. The August drought is over and television is back! Whether you're looking for a new Netflix binge or just desperate for your favorite network show to return, here's your guide to the two dozen TV shows to check out this fall.
I'm Jake Kleinman, entertainment editor at Inverse. This week we're doing things a little different. Click here to vote for your favorite fall TV show on Twitter, and feel free to email me at jacob@inverse.com with any suggestions for how we can make this newsletter even better. See you at the bottom!
This is a recreation of Inverse's twice-weekly newsletter, Multiverse. Sign up for free.
What's new on Netflix? A lot!
Disenchantment Season 2 — September 20
The first season of Matt Groening's fantasy series was a bit of a dud, but it ended on a huge cliffhanger that had us drooling like Homer Simpson over the promise of a Season 2. This Netflix original basically remixes jokes and characters from The Simpsons and Futurama into a Game of Thrones-inspired setting. If that sounds like the show for you, you've got just a few days to catch up before Disenchantment returns.
Big Mouth Season 3 — October 4
Nick Kroll's crude as hell cartoon explores the messed-up world of puberty. It's one of the funniest shows around thanks to its foul-mouthed humor and a killer voice cast (John Mulaney, Jenny Slate, Jordan Peele, Jason Mantzoukas, Maya Rudolph, and Kroll himself in about a dozen different roles). The Big Mouth Season 3 premiere is about a month away, but you can check out the trailer right now.
Living With Yourself — October 18
Paul Rudd stars opposite himself in this just-announced sci-fi series about a man who splits himself in two as part of an experimental spa procedure, separating all the bad parts of his personality into an inferior clone who refuses to disappear. If you think that sounds like an episode of Rick and Morty, you're not wrong, but with Ant-Man himself involved, we're more than happy to give Living With Yourself the benefit of the doubt.
Daybreak — October 24
The zombie apocalypse looks like a hell of a lot of fun in an action-comedy series where high school students are transformed into Mad Max gladiators after society collapses. Matthew Broderick plays the principal (what would Ferris Bueller think?!), but we have a feeling he won't survive. Watch the Daybreak trailer now.
The Toys That Made Us Season 3 — November 15
This documentary series offers an in-depth look at some of the best toys of your childhood. Season 3 of The Toys That Made Us will tackle the Power Rangers and much more when the show returns in November. In the meantime, check out this interview with the series creator.
The Witcher —- Release date TBD
Based on the same Polish fantasy books that inspired the video game, Netflix's take on The Witcher looks like an epic adventure to rival Game of Thrones. We still don't know exactly when the show will premiere, but you can (re)watch the trailer right now.
HBO is still a thing post-Game of Thrones
Silicon Valley, the final season — October 27
After a painfully long hiatus, the boys of Pied Piper are back. The show's final season will bring back all your favorite Silicon Valley characters — except Erlich Bachman, who's presumably still smoking opium somewhere in Asia.
Watchmen — October 20
How do you follow a show like Game of Thrones? Perhaps with another epic series based on a beloved piece of geek culture. HBO's Watchmen will return to the world of Alan Moore's graphic novel and explore the world its flawed heroes left behind. It also looks like a very timely send-up of the superhero genre in general, with various characters seriously discussing the nature of heroism and the symbolism of wearing a mask. If you liked Amazon's The Boys, this might be your new favorite show.
His Dark Materials — November 4
If you're more of a fantasy fan, HBO still has you covered with a big-budget adaptation of Phillip Pullman's "His Dark Materials" (aka the book series that starts with The Golden Compass). The series stars James McAvoy, Lin-Manuel Miranda, and a giant CGI polar bear in a sweeping adventure that looks way better than the whitewashed 2007 movie adaptation.
Disney+ doesn't have any marvel shows … yet
The Mandalorian — November 12
It might not be Marvel, but Disney's new streaming service is coming out of the gate strong with the first ever live-action Star Wars TV show. Set in between Return of the Jedi and The Force Awakens, The Mandalorian stars Pedro Pascal as a bounty hunter exploring the fringes of the galaxy, taking down stormtroopers, and just trying to make a buck. The series also stars Bill Burr, Carl Weathers, Gina Carano, Nick Nolte, Werner Herzog (yes, seriously), and Taika Waititi as a gun-wielding robot.
The World According to Jeff Goldblum — November 12
I have no idea what this show is about, but the title pretty much says it all, right? Here's the official description, though: "Each episode is centered around something we all love — like sneakers or ice cream — as Jeff pulls the thread on these deceptively familiar objects and unravels a wonderful world of astonishing connections, fascinating science and history, amazing people, and a whole lot of surprising big ideas and insights."
Good ol' fashioned regular TV
American Horror Story: 1984 — September 18 on FX
As American Horror Story enters its ninth (yes, ninth!) season, the anthology series is serving up a 1980s throwback in a summer camp setting. But is everything what it seems? Knowing this show, you can probably expect multiple twists during AHS Season 9.
South Park Season 23 — September 25 on Comedy Central
Yes, this show is still around, and despite my best efforts, I still love it.
It's Always Sunny in Philadelphia Season 14 — September 25 on FX
It's Always Sunny in Philadelphia is the greatest sitcom of the 21st century, and if you disagree I will fight you. Sorry, I got a little hot there. But seriously, Always Sunny is the gift that keeps on giving. Season 13 included a multiverse episode as clever as anything Rick and Morty has ever done, and Season 14 is sure to be even better.
The Good Place, the final season — September 26 on NBC
I'm so forking sad that this show is ending, but I also have total faith in creator Mike Schur and the rest of the gang to deliver another outstanding season of television.
Evil — September 26 on CBS
This new show about a criminal psychologist and a priest-in-training investigating demonic possessions is way better than it sounds. Trust me.
Robot Chicken Season 10 — September 29 on Adult Swim
This stop-motion sketch show has somehow been around for nine seasons. To celebrate, Robot Chicken is serving up some of its most ambitious jokes yet, including an epic 200th episode celebration.
Batwoman — October 6 on The CW
The latest addition to the Arrowverse is Kate Kane (aka Batwoman). Played by Ruby Rose, Batwoman will bring us to Gotham City and provide what looks like a fresh take on the popular DC superhero.
Mr. Robot Season 4 — October 6 on USA
Season 1 of Mr Robot was incredible. Season 2 was trash. I didn't watch Season 3, but I heard it was pretty good. Now, Rami Malek returns for the show's final season before its creator, Sam Esmail, turns his attention to that Battlestar Galactica reboot he's working on for NBC's new streaming service.
The Flash Season 6 — October 8 on The CW
Barry Allen is back! Our archive of stories on The Flash is a wondrous thing. Catch up with that world before Season 6 right now.
Nancy Drew — October 9 on The CW
This show basically looks like Riverdale but starring a mystery-solving part-time waitress. Count us in!
Riverdale Season 4 — October 9 on The CW
Speaking of which, Riverdale is back for a fourth season. Need we say more?
Are You Afraid of the Dark? — October 11 on Nickelodeon
"Submitted for the approval of the Midnight Society, I call this story, 'Reboot.'" The relaunched Nickelodeon series made famous in the '90s comes back in the form of a miniseries that was supposed to be paired with a movie that would come out at the same time — but seemingly has been shelved for the time being. The scariest thing of all is corporate synergy, it seems.
Arrow Season 8 — October 15 on The CW
Arrow, the show that started it all, comes to an end in January after the upcoming "Crisis on Infinite Earths" crossover event.
Reader mail from Derry, Maine
Last week, I asked for your It: Chapter Two reviews and got some great replies. Michelle said it was "awesome." Carlos also "absolutely loved it" and thinks the adult actors really nailed their characters, though he admits "it was a bit long."
Finally, Jane agreed with me that It: Chapter Two "falls flat" and "was way too long." Jane's whole review is extremely on point. Read it below:
Meandering through and missing the taste and texture of the book. It also lacked any of the reasons the kids even got together as friends and became the Losers' Club at all. Then it waited until halfway through the second half to explain where Henry was.
Let's face it, this movie just isn't good. The first half sucked so I was hoping the second half might fix it. But the second half was worse.
And although the makeup was good, the clown was annoying more than anything. While the special effects were good, the script, the acting, the lighting was not. It wasn't scary.
A couple of cheap bumps that mostly made the audience laugh. I resented the amount I paid for the tickets. "Plan 9 From Outer Space" was a better movie than this one.
Thanks for reading Multiverse! If you found this extensive fall TV guide useful, please share it with a friend using the link below. And don't forget to participate in our Twitter poll for the best show of the season. There can only be one…
This is a recreation of Inverse's twice-weekly newsletter, Multiverse. Sign up for free.