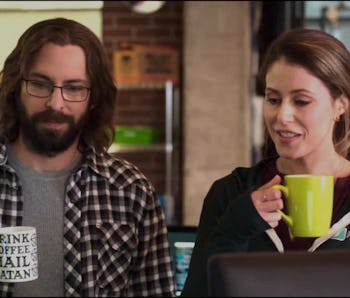 Entertainment
'Silicon Valley' Season 6 Star Reflects on Show Getting "Too Real"
The millennial star of 'Tone-Deaf' reflects on the HBO comedy and why she isn't on social media.
HBO
When HBO's Silicon Valley premiered in 2014, the tech world was a different place. Sure, there was spam and Edward Snowden, but the world had yet to know Russian hacking, fake news, and the realities of an exploited labor force. Now, with the Emmy-nominated series coming to an end, star Amanda Crew reflects on the show's reputation for bringing the "uncanny" to the valley.
"The constant feedback has been that Silicon Valley, the real world, feels like they are being truly depicted whether they like it or not," Crew tells Inverse while promoting her latest film, the horror satire Tone-Deaf. "Mike [Judge] and Alec [Berg] have done such a good job showing it in a satirical way. In the way Veep started off as a satire and it was like, 'Oh, we can't satirize this anymore because it's too real,' I feel that is our show too."
Crew adds that as much as Silicon Valley (the series) has clowned the tech world, truth is sometimes stranger than fiction. "You think the writers are exaggerating stories they've heard, when in fact they're actually toning it down. Because it's too crazy for people to believe this is happening."
While Crew couldn't reveal much about the upcoming final season, she did comment on the show's introduction of politics to the valley. The season will reflect the real-world, where Mark Zuckerberg spent two days in 2018 providing testimony at Capitol Hill over privacy and security (or lack thereof) concerns on Facebook. With Silicon Valley putting its nervous protagonist, Richard Hendricks, in a similar situation, it's getting difficult to see where the comedy ends and the drama begins.
"It's interesting because politics are becoming invovled in Silicon Valley. That wasn't a factor when we first started," Crew says.
Meanwhile, Crew confirms that Monica, her usually put-together millennial go-getter, will return for the final season. But her newest role in Tone-Deaf, Olive, is a far cry from Pied Piper's current CFO.
In Tone-Deaf, Crew's role of Olive is a stressed-out, coastal liberal twenty-something who rents a rural house for the weekend. She soon becomes the target of its owner, Harvey (Robert Patrick), a vengeful baby boomer who is all too sick of "lazy" and "entitled" young adults.
"It was refreshing to play a character who was deeply flawed and self-centered," Crew says. "That stereotype, I don't want to work hard and earn the career of my dreams. I'm entitled to it now. That kind of overt confidence that comes from a deeply insecure place. I love that she's messy and bossy."
Throughout the film, Olive behaves like the exaggerated millennial boomers fear. But in real life, Crew is turned off from being plugged in like the rest of her generation. In a rare move from working actors today, Crew is totally off Facebook, Twitter, and Instagram even in a professional context.
"Yeah. I just deleted it," she says. "People think it's this grand statement, but there's so many reasons [why] I did. The root was self-care. It wasn't a healthy place for me."
Crew says she wasn't even dealing with overwhelming harassers and trolls, which is how Star Wars: The Rise of Skywalker star Daisy Ridley left social media in 2017. "I'm like, no, I'm not nearly as big as Daisy Ridley. I didn't have anyone coming at me. I just found it was putting me in a negative headspace."
Crew described social media as "this plug to the central nervous system of America," which the actress found exhausting. "I have enough of a hard time dealing with my own nervous system. I don't need everyone else screaming at each other, or Instagram promoting an ego microwave."
So, it was fun for the Silicon Valley star to "lean into" the stereotypes.
"It's more comical if you lean into the coexist bumpers and [have Olive drive] a Prius, yet drink out of a styrofoam cup. The irony of being for environmental causes but not leading your life that way, we're all guilty of it. I don't think all millennials are Olive, but for comedic effect, you lean into the ironic qualities."
Tone-Deaf is now playing in theaters.