Star Wars Has Always Outsold Star Trek, Says 'Toys That Made Us' Creator
Brian Volk-Weiss unpacks Season 2 of the Netflix toy series, including the rivalry between Star Trek and Star Wars.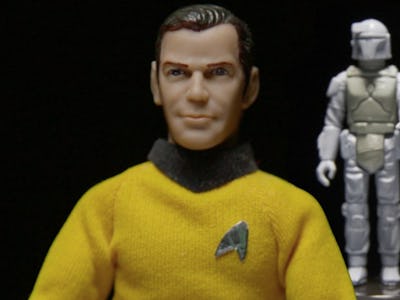 Netflix
It's a nerd debate as old as time: Star Trek or Star Wars? On the day of the release of Solo: A Star Wars Story, Netflix's winter binge hit The Toys That Made Us is back with Season 2, including one episode focused on the history of Star Trek toys. In an interview with Inverse, creator Brian Volk-Weiss tells a harsh truth for the most feverish Trekkie collectors.
"The only time Stark Trek ever got ahead of Star Wars was when Star Wars was not making toys," Volk-Weiss says. "The worst performing Star Wars toy would sell better than the best performing Star Trek toy. I say that as a fan of both."
Volk-Weiss doesn't cite sales figures, but there's a kernel of truth to his statements. Because once upon a time — the late 1980s to the early 1990s — Star Wars wasn't the world-dominating multimedia franchise it is today. Star Trek, meanwhile, had expanded into movies and with a new TV series, Star Trek: The Next Generation, all during Star Wars' dark era.
But that's not to say Star Trek toys was always infallible, either. Until toy maker Playmates obtained the Star Trek license in 1992 (later to be scooped up by Hasbro, maker of Star Wars toys, in 2013), the now-defunct toy company Mego produced Star Trek toys that were famously inaccurate, according to fans.
"To say Mego's Star Trek toys had inaccuracies is to say the ocean is wet," Volk-Weiss jokes. "The heads were accurate. Everything else was ridiculous." For the episode, Volk-Weiss and his team interviewed ex-Mego company president Martin B. Abrams three times, "because we kept learning new things."
"We dive deep into Mego," he says. "Every episode is either two or three themes: Barbie was also Mattel. Star Wars and G.I. Joe was really the story of Hasbro. Star Trek is really about Mego."
But it's a Mego toy that remains the most sought-after Star Trek toy among collectors. Coinciding with the release of 1979's Star Trek: The Moiton Picture, Mego released an action figure line based on the film. It was the line that ultimately put Mego out of business, according to Volk-Weiss.
"Their Star Trek: The Motion Picture line, they made a bridge of the Enterprise that is extremely valuable," he says. "They didn't make many. They were constructed poorly. Most of them were thrown out or destroyed." And as an avid Star Trek fan, Mego's Enterprise bridge is Volk-Weiss's holy grail that still eludes him in the wild. "I've wanted one my whole life and I've never even seen one."
In Season 2, now streaming on Netflix, The Toys That Made Us devotes several more episodes to more nostalgic toy franchises including Hello Kitty, Lego, and Transformers, which Volk-Weiss knows there's "tremendous anticipation" for. In terms of the new episodes, Volk-Weiss compares the Transformers and Star Trek episodes to the Star Wars and He-Man stories released last winter.
"Transformers is comparable to Star Wars, and Star Trek to the He-Man episode," he explains. "The Star Trek episode is a really funny story with a lot of chaos similar to He-Man. Transformers and Star Wars have been a very stable, robust business. They're two very different types of story, but equally worth watching."
As for the future, Volk-Weiss wouldn't confirm if Netflix has green-lit the show for more. But he does bring up franchises fans have asked about that the show has yet to explore, including WWE, Teenage Mutant Ninja Turtles, and My Little Pony. "And I can almost guarantee you Power Rangers will be in it," he teases.
The Toys That Made Us Season 2 is streaming now on Netflix.