'It: Chapter 2' Hits Theaters, but Consider These 5 Spooky Streaming Recs
Pennywise is here to give you a cup of pumpkin-spiced horror.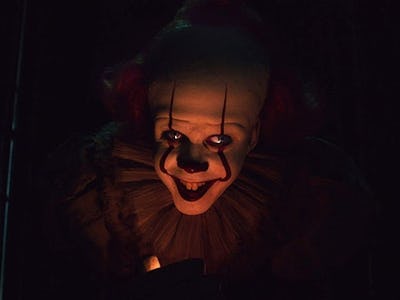 August was predictably slow for new streaming options, but as we settle into September, the fall lineup is about to get real hectic. (Don't forget, Disney+ will drop a wealth of content into our laps come November.) Now that PSLs are everywhere, the air is turning crisp, and Pennywise is back in theaters this weekend for It: Chapter Two, our frightened brains are preoccupied with various shades of pumpkin-spiced horror with a dash of science fiction — you know, instead of nutmeg!
Here are five streaming recommendations from the Inverse team to get you through the weekend, ranging from scary and mysterious to gripping and ridiculous.
The Cabin in the Woods
Jupiter Ascending
Lost
A Simple Favor
Evil Dead and Evil Dead 2
The Purge TV show
This is a recreation of Inverse's twice-weekly newsletter, Multiverse. Subscribe for free!
It's Time We Returned to The Cabin in the Woods
The American Horror Story Season 9 trailer debuted earlier this week, and the meta way it engages with the horror genre feels reminiscent of The Cabin in the Woods.
Directed by Drew Goddard and co-written by Joss Whedon, the film follows a group of college kids (Chris Hemsworth, Anna Hutchison, and Jesse Williams, among others) who retreat to a cabin in the middle of nowhere. Meant to be a nice weekend with friends, instead all hell breaks loose as they fight off zombies, monsters, and even a merman, all while navigating death traps controlled by an underground facility wrapped up in a bizarre conspiracy. 
The 2011 film was subversive and helped bolster the genre with a clever twist that the derivative plot setup was manufactured in-universe as part of a deeper conspiracy, changing the way many view horror in the mainstream. (Tucker and Dale vs Evil does the exact same thing but didn't find an audience until arriving on Netflix.) However, Cabin in the Woods still leans into every horror cliché and character trope that audiences have come to expect. But, just when you thought it would end the way other horror films have, it presents a whole new side to the story and makes us question everything we've already seen.
The film isn't currently available to stream for free, but it is available to rent on Amazon Prime, Vudu, YouTube, and most other places you might find your movies. — Mae
Jupiter Ascending — the Last Great Wachowski Masterpiece — Is on Freaking Netflix Right Now
Some people like to think of Jupiter Ascending as a strange film where Sean Bean plays a role where he somehow doesn't wind up dead. (Oops, spoiler alert!)
But really, Jupiter Ascending is so much more than that, and it just hit Netflix in August. You might have heard this movie is bad. You might have heard this movie is silly. You might have heard that Channing Tatum plays a dog alien. All of these things are true, but Jupiter Ascending is a delightful sci-fi potpourri of good intentions and thrilling ideas. Everyone is thrilled that Lana Wachowski is returning to pen Matrix 4, but in every way, Jupiter Ascending was the last Wachowski masterpiece.
Starring Mila Kunis as Jupiter Jones, this movie is what people really mean when they say something has the feeling of old-school sci-fi pulp. Star Wars reigns supreme for honoring corny sci-fi conventions, from the likes of Flash Gordon and Buck Rogers, but Jupiter Ascending goes whole-hog. This solar system-spanning epic has more in common with a comic book than any Star Wars movie and doesn't give a space rat's ass about being cool. If you like movies that are set in spaaaaace and feature Eddie Redmayne as a creepy bad guy who lives on the planet Jupiter, holding onto scraps of immortality, you're all set.
Jupiter Ascending is what happens when the writers of The Matrix read one of The Expanse books and say, sure, but what if we were on acid and not pretentious? — Ryan
Will Netflix's I-Land Be the New Lost?
Netflix had a slow August, but The I-Land might shake that up in September. This sci-fi thriller follows a group of strangers trapped on an insidious tropical island after their memories are wiped clean and … yeah, we're also getting some serious Lost vibes.
The I-Land hits Netflix on September 12, which means there's no better time to catch up on Lost, the series responsible for fueling a new era of Reddit fan theories and internet deep dives. (4, 8, 15, 16, 23, and 42, anyone?) 
All six seasons of Lost are currently available for streaming on Hulu. Let's be real, though, the first three seasons are the only ones worth revisiting — before literally everything stops making sense. Remember that point in the series where Sawyer and Juliet are stuck in 1977 working for the Dharma Initiative while the rest of the crew resumes life in 2007 in some weird time jumping and the introduction of alternate universes that would confuse even the late Stephen Hawking? But man were those first couple of seasons good…
Take a trip back to 9 years ago, when Jack, Kate, Sawyer, and Juliet were the love quadrangle everyone obsessed over; no one could decide if they actually liked the constant barrage of flashbacks and flash-forwards; a mysterious man-turned-smoke monster-turned-John Locke was terrorizing the island; and everyone just really liked Desmond.
Did the series finale tie up all the loose ends so everything made sense in the end? Absolutely not, but it could be argued that's why people still talk about Lost with the same kind of ferocity. — Chelsea
If you've got any long-standing Lost theories or, better yet, any unresolved issues, shoot an email to corey@inverse.com, and we'll feature them in next week's newsletter.
You can watch all six seasons of Lost right now on Hulu and The I-Land on Netflix September 12.
Do Yourself a Favor and Watch A Simple Favor Right Now on Hulu
While trapped in my apartment by the rain all day on Labor Day, I watched two great movies I'd been meaning to check out for a while: A Simple Favor and Beach Bum. And while you won't regret watching a stoned-out-of-his-mind Matthew McConaughey stumble through Florida for two hours in this trippy movie from Harmony Korine (Spring Breakers), the clear winner of the two is A Simple Favor. Paul Feig's soccer mom psychological thriller is also much more on brand with the kind of movies we love here at Inverse.
Starring Blake Lively and Anna Kendrick, A Simple Favor is half murder mystery, half suburban comedy with a twist ending that just barely sticks the landing. When Stephanie (Kendrick), a widowed mom with a popular cooking vlog but not much of a social life, meets Emily (Lively), a high-powered fashion executive with a dashing husband and a drinking problem, the two somehow become best friends. Then Emily disappears and winds up dead. Somehow that's not even close to the movie's biggest twist.
A Simple Favor will keep you guessing until the very last moment — just don't think too much about that ending afterwards. It's also the perfect thing to keep you occupied while you wait for Feig's next big movie, The Last Christmas, starring Emilia Clarke and Henry Golding (who may or may not play a ghost). — Jake
Get a Jump on Halloween With the First Two Evil Dead Movies
Klaatu …. barada …. necktie! Summer has just ended and September's only begun, but that's no reason why you can't get a jump on the spookiest season of the year. And since September 1, Hulu has made starting Halloween early a cinch with both 1981's The Evil Dead and its sequel, 1987's Evil Dead II, available to stream. As perennial comedy-horror classics, both movies are excellent appetizers for the Halloween horror harvest that will soon be upon us.
The films that made Sam Raimi and Bruce Campbell famous, these two Evil Dead movies tell the harrowing and hilarious tale of Ash (Campbell), a college student whose weekend getaway to the woods with his best friends is turned upside down by a supernatural book of the underworld, called the Necronomicon. While the film starts out as a straightforward horror movie, Raimi's black comic sensibilities quickly transform The Evil Dead into a laugh-out-loud riot that will have you screaming. The sequel, set immediately after the events of the first movie, ups the ante on the humor, along with seriously impressive monster designs.
It might be too early to drum up serious scares from all your favorite horror movies, so why not kick back and laugh a little with the first two Evil Dead movies. And when you're done, you should absolutely seek out the third and final movie, Army of Darkness, which sends Ash into the middle ages to fight a skeleton army of the dead! The delightful 2015 sequel series, Ash vs Evil Dead, is also available to stream on Netflix. — Eric
Explore Deeper Into the Universe of The Purge With the TV Show
Set in 2027 in a typical, unnamed American city, The Purge TV show explores the broader societal impact of what the annual murder spree does to the nation's citizens. The four movies released within the franchise thus far often focus on the night in question, a period of 12 hours once a year when all crime is legal — with a few additional rules. Rather than a blistering two-hour movie, The Purge show gets an ensemble cast to play with and 10 hours of television to flesh out their backstories.
Because it can't overtly showcase the violence, The Purge TV show has to do smarter things with its storytelling. But for anyone who appreciates the franchise for what it already is, there's still plenty to appreciate. Yes, there's plenty of murder and violence, but the show ups the drama and dials back the gore, making it more palatable to a wider audience and capable of being broadcast on network television. Season 2 will debut on USA Network on October 15, 2019, so there's no better time to watch the first season than right now, when Season 1 only recently hit Hulu.
There's an ambitious young couple trying to schmooze with the upper elite. A business woman trapped under a glass ceiling who may or may not have her boss killed. A blue-collar worker who fervently believes in the Purge. A veteran trying to rescue his sister. A former cop who owns a neutral bar offering safe haven to anyone on Purge night. The stories are interesting, unexpected, politically-charged, and, as always, provocative. — Corey
Got a movie or TV show to recommend? Email it to us at corey@inverse.com and maybe we'll feature it in next week's newsletter.
Also, don't forget to subscribe to the Multiverse newsletter!