Paul Feig's Production Company Adopts Inclusion Riders
Real change is coming to Hollywood.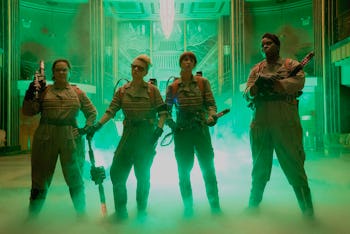 Flickr / BagoGames
Director Paul Feig announced Tuesday that his production company, Feigco Entertainment, will adopt an inclusion rider for all future television and film projects. "We challenge other companies and studios to do the same," Feig said in a tweet.
The term "inclusion rider" first entered the public consciousness at the 90th Academy Awards on March 5, when Best Actress winner Frances McDormand punctuated her speech with an inclusion rider mic drop. The main idea behind inclusion riders is pretty simple: if movie studios won't implement diverse hiring practices because of public pressure, then movie stars should include contract stipulations requiring studios to commit to a diverse cast and crew.
Exactly what is meant by "diverse" can differ depending on the inclusion rider. The idea a film's casting should reflect the demographic in which the film is taking place — for example, the world, which is made up of roughly 50 percent women. A rider might require a production company to also hire a certain amount of women to work on a set. They can also include requirements for other demographics that are underrepresented in the film industry.
It shouldn't be too hard for Feigco to implement inclusion riders. Over the past decade, Feig has demonstrated a commitment to producing female-driven films. For example, Feig has partnered with comedian Melissa McCarthy three times in the past 7 years, creating Bridesmaids, Spy, and most recently, the female reboot of Ghostbusters. With Feig's on-the-record commitment to inclusion riders, expect Feigco to continue building diverse narratives.
Since McDormand's proclamation in early March, inclusion riders have been gaining currency in Hollywood. On March 7, Blank Panther star Michael B. Jordan announced that his production company would commit to inclusion riders for all its work, with Ben Affleck and Matt Damon following suit on Monday.
Now that Paul Feig has joined the club, it seems likely that this trend will continue. But so far, none of the major big-budget movie studios have announced any implementation of inclusion riders. If they refuse to commit to diverse hiring practices, it could be just a matter of time before movie stars take their talents elsewhere.