Why the 2018 Oscars Were Historic for the LGBTQ Community
Queer visibility was pushed to new heights.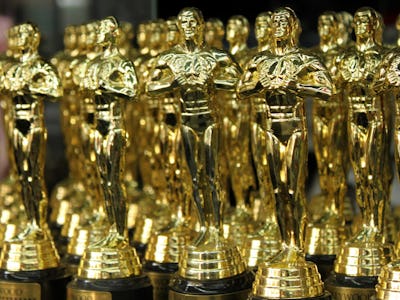 Prayitno / Flickr
The LGBTQ community had quite a breakthrough night during the 2018 Academy Awards on Sunday. After the gay romantic drama Moonlight won Best Picture at last year's ceremony, the Academy kept the inclusivity going this year.
Aside from openly-gay Olympian Adam Rippon's meme-ready harness tuxedo, the night was filled with queer-themed highlights.
Chilean actress Daniela Vega made Oscar history by becoming the first openly-transgender presenter at the awards show. The star of A Fantastic Woman, which won for Best Foreign Language Film, introduced singer-songwriter Sufjan Stevens's performance of "Mystery of Love." The number was nominated for Best Original Song for the gay romantic drama Call Me By Your Name.
Vega's presence at the Awards was one of several major moments surrounding LGBTQ visibility. In fact, several nominees and award recipients made a splash for the community during this year's Oscars.
Director Yance Ford became the first openly trans director to receive a nomination. The nod was for Ford's documentary Strong Island, about the 1992 murder of his brother. It's safe to say the director and his partner had been ecstatic about the historic nomination, as demonstrated on the film's official Twitter account.
While it missed out on the big award of the night, Call Me by Your Name did win the Oscar for Best Adapted Screenplay, which went to 89-year-old gay screenwriter James Ivory. For adapting the novel by André Aciman, Ivory also made history for becoming the oldest Oscar winner ever. He also gave one of the night's most touching speeches, which highlighted the gay love story portrayed in Call Me By Your Name by stars Armie Hammer and Timothée Chalamet.
"Whether straight or gay or somewhere in between, we've all gone through first love, I hope, mostly intact," Ivory said on stage.
After his win, Ivory commented on his age, saying, "90 years for anything you do is extraordinary. Having won the Oscar at that age seems like a hiccup in nature. It feels good to be holding on to that Oscar. It's mine."
It may have taken Ivory decades to receive his due, but it seems that the Academy is beginning to take inclusivity more seriously than ever before.