It Took 'Black Panther' 26 Days to Make a Billion Dollars
T'Challa eyes Avengers for top Marvel movie.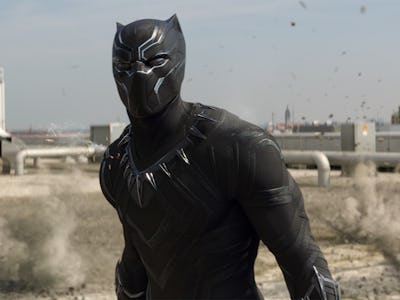 Marvel Entertainment
Black Panther continues to dominate the box office as it joins the billion-dollar club.
The Marvel movie passed the milestone on Saturday, as reported by The Hollywood Reporter. It took 26 days for Black Panther to reach $1 billion at the global box office.
This weekend marked the first sign of Black Panther losing its crown at the box office with the release of A Wrinkle in Time. The adaptation of the classic sci-fi novel starring Oprah Winfrey and directed by Ava DuVernay started the weekend strong with $10.2 million opening on Friday. With an expected $32-33 million weekend, it will still come in second to Black Panther, which has an expected $40 million plus weekend.
This makes the story of the Wakanda superhero story the 33rd movie to join the exclusive club. Of the 33 movies, Black Panther is the seventh superhero movie, which includes five from the Marvel Cinematic Universe. After this weekend, it will be second only to The Avengers in box office receipts for MCU movies.
Black Panther continues the story of T'Challa (Chadwick Boseman) after the events of Captain America: Civil War. As the new king of Wakanda, T'Challa deals with both the past and present in order to shape the future of his country.
The movie is a hit with critics, sitting at a 97 percent rating on Rotten Tomatoes. It also caused a cultural shift with its depiction of Afrofuturism.
Up next for the monarch is the battle against Thanos in Avengers: Infinity War releasing on April 27.
Now watch this: "Afrofuturism Is Not Just Black Sci Fi"
Black Panther is in theaters now.