Will 'Stranger Things 4' Take Place in 1986? And More Season 4 Questions
Ripping open a rift to the Upside Down for answers.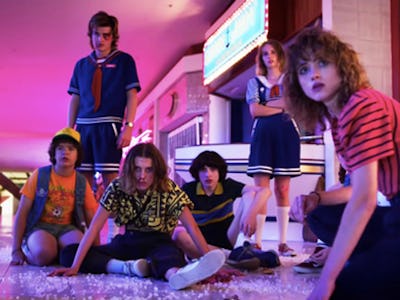 All gates to the Upside Down might be closed for now after Stranger Things Season 3, but we're taking a final look at the many teasers and theories about the future of Netflix's hit series.
This article is adapted from the Multiverse newsletter. Sign up for free to get weekly streaming recommendations.
Who Is "the American"?
The Stranger Things Season 3 post-credits scene took us back to the Russian base in Kamchatka to show that a Demogorgon was imprisoned there, but not before a pair of guards referred to one inmate as "the American."
This person's identity is perhaps the single biggest mystery for the future of the series. We've got some theories, starting with the obvious: Did Hopper survive only to get captured by the Russians? Read more.
Here are a few more possibilities:
The Mind Flayer's New Ability Should Scare You Even More
The Mind Flayer on Stranger Things functions like a hive mind, but one Season 3 detail that isn't getting talked about much is the mechanism that seemingly removed Eleven's psychic powers.
What exactly did the Mind Flayer want with El in the first place? Could it be some sort of superpower-stealing parasite? Read more.
Bonus: "The Flayed" is a lame name.
Will Stranger Things Season 4 Take Place in 1986?
The next Stranger Things season might take place in 1986 if the show's past trajectory continues.
Season 3 took place in the summer of 1985, so unless Season 4 takes place during one of the holidays Mike was talking about in the epilogue (or jumps forward into the future), it'll probably be 1986.
A 1986 time period could mean several things for the series:
Hungry for more? Check out everything we already know about Stranger Things Season 4. Read more.
Meanwhile …
Inverse Loot
Subscribe to Inverse Loot and learn about these deals first.
What's Next?
In this dimension, Queer Eye Season 4 will give Netflix a makeover on Friday, the same day that Jon Favreau's live-action Lion King remake roars into theaters.
On Saturday, Neil Armstrong biopic First Man touches down on HBO and Hulu simultaneously. And if you're starved for more space cinema, Hulu also gets the stunning documentary Apollo 11.
This article is adapted from the Multiverse newsletter. Sign up for free to get weekly streaming recommendations.