Seriously Upgrade Your Living Room With This Beautiful Couch
This updated Chesterfield couch is a must-have for any grown up living room.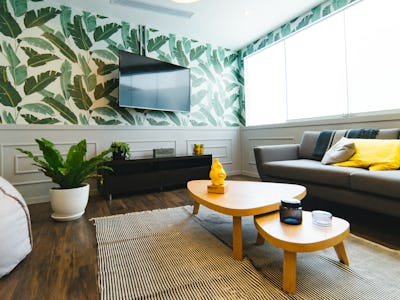 Unsplash / Dan Gold
Believe it or not, there are lots of great furniture options available on Amazon. If you're like me, it's probably one of the last places you'd look for furniture, but after a few months of targeted ads specifically directing me towards purchasing furniture on Amazon, I started browsing. And while I was seriously impressed, I fully believe this Stone & Beam Bradbury Chesterfield Turfed Couch is the best on the site.
First, let me start by asking, where else in the world can you get a brand new couch for $630? Even at Ikea, you're not going to get a couch at this price point with this kind of elegant detailing.
The Chesterfield couch with its wide sculpted arms, deep back, and tufted detailing throughout has for decades been a staple in any elegant living room. You can dress it up, you can dress it down, you can reupholster it in 20 years and breathe new life to it and Stone & Beam gets that.
Available in a 79-inch and a 93-inch option—as well as a chair and ottoman, if you're looking to complete the set—this couch is built to withstand years of morning reading, afternoon naps, dog and kid jumping and more thanks to the intentionally sturdy design and high performance upholstery.
The legs are made out of solid hardwood while the upholstery is a polyester-nylon blend for stain resistance, longevity and comfort that lasts. If you've even considered the possibily of a new couch, you cannot go wrong with the ease of delivery of an Amazon couch.