'Fortnite' Season 10 Start Date and Time, Themes, Map Changes, and Teasers
Everything to know about the next season of 'Fortnite'.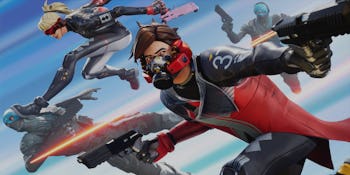 Epic Games
Fortnite: Battle Royale is about to hit a huge milestone: Season 10. With each season stretching for 10 weeks, that's 100 weeks of Fortnite. And to celebrate, it looks like developer Epic Games is gearing up for another huge shakeup in the super-popular battle royale game.
Season 9 moved Fortnite into the future, and Season 10 could take things even further by traveling to multiple points in time. How will that work? We have no idea, but here's everything we do know about Fortnite Season 10, from the release date and start time to new themes and all the latest teasers.
We'll update this post with every new detail we get, including theories about storylines, new updates to the game, and any relevant info about the new season.
What Happened in Fortnite Season 9?
Fortnite Season 9's official theme is "The future is yours."
In the Season 9 launch trailer, Jonesy and Peely hide in a bunker when the volcano erupts. Jonesy had to blend Peely up into a smoothie for sustenance, and he emerged from the bunker years later to find new technology — like the Slipstream system and the Sky Platforms — and new destinations like Mega Mall, Neo Tilted, and Pressure Plant.
The most important ongoing story element of Season 9 involves the giant monster frozen under Polar Peak that has since escaped. It occasionally stomps around the map, destroying different areas. A huge robot has also been constructed throughout Season 9 at Pressure Plant, and most leaks indicate a massive confrontation will happen on July 20.
When Is the Fortnite Season 9 End Date?
As of this writing, the in-game Season 9 battle pass countdown indicates that Season 9 should end on July 31, 2019. In the past few seasons, these countdowns were accurate, but they're known to shift without any announcement. At one point, that same countdown made it seem like the end date was July 23, but at some point in early July, it was pushed back a week.
When Is the Fortnite Season 10 Start Date?
Thursday, August 1, according to official Season 10 teasers shared on social media by Epic Games on Sunday and Monday. That doesn't come as a surprise. We knew Season 9 was ending on July 31, and Thursday is always when Epic rolls out updates. Still, it's nice to have official confirmation.
What Is the Fortnite Season 10 Start Time
We don't know for sure, but on the day each new season starts, Fortnite typically goes offline for a few hours starting at around 4 a.m. Eastern before returning with major changes somewhere between 6 a.m. to 9 a.m. Eastern. Expect something similar for the Season 10 start.
What Is the Fortnite Season 10 Theme?
We hinted at this previously, but Season 10 is probably tied to the mysterious creature that was imprisoned under Polar Peak until it broke free. Many Fortnite fans think this Godzilla-sized kaiju might present a kind of huge boss battle for players around the world. Data-mined information revealed the creature is called "Cattus." The giant robot in Pressure Plant is also supposedly called "Doggus," so the July 20 event should be a battle between the two.
Fortnite basically confirmed this with an epic "mech vs. monster" showdown near the end of Season 9. And the second teaser for Season 10 strongly suggests that we could see even more of these mechs moving forward.
The words "look forward" also suggest we could be jumping even further into the future. However, an earlier Season 10 teaser hints that Fortnite could also be heading back in time to whatever year it was supposed to be during Seasons 1-8.
Dusty Depot was destroyed at the start of Season 9. So it definitely looks like we'll be going back in time during Fortnite Season 10. How any of this will actually work is a mystery, but we should know more very soon.
How Will the Fortnite Map Change for Season 10?
Assuming Season 9 does end with an epic battle with a giant monster, then huge portions of the map could take some collateral damage.
On June 18, the monster destroyed a section of Loot Lake just by walking on it. Maybe it'll destroy Neo Tiled, Godzilla-style, in the Season 10 launch cinematic?
How Much will the Fortnite Season 10 Premium Battle Pass Cost?
Fortnite: Battle Royale might be free to play, but for players that want access to the premium Battle Pass and all its associated challenges, purchasing the pass costs 950 V-Bucks. That converts to about $9.50, but most players will have to buy a V-Bucks bundle that costs $9.99 for 1,000 or one of the bigger bundles that offer better deals.
Fortnite: Battle Royale Season 10 should begin on or around August 1.