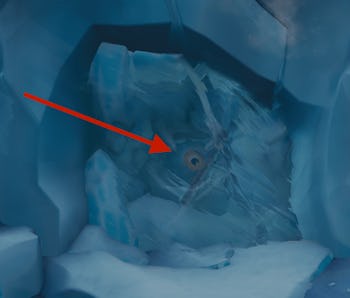 Gaming
'Fortnite' Godzilla Event Could Introduce Boss Battles to the Game
The MonsterVerse may be 'Fortnite's next epic crossover.
Epic Games / Fortnite Insider
With Godzilla: King of the Monsters due in theaters this Friday, the appearance of a kaiju-sized eye frozen inside a mountain in Fortnite makes it seem like the biggest movie monster ever might soon take part in the world's biggest battle royale game.
The volcanic eruption at the end of Fortnite Season 8 destroyed Tilted Towers and also caused a huge crack on the north-facing side of Polar Peak's main glacier, but on Tuesday players began noticing that more ice had eroded to expose a massive roving eye underneath. The rest of this monster, whatever it is, currently remains trapped in ice, but it could break free at some point in the next few days.
Fortnite: Battle Royale has a storied history with in-game promotions related to events like the World Cup and, more recently, with films like Avengers: Endgame and John Wick: Chapter 3 — Parabellum.
Events usually include exclusive limited-time modes, outfits and other cosmetics, and even special challenges in the spirit of whatever movie Epic Games is promoting. "Fortnite x Godzilla" has yet to be confirmed in any concrete fashion, but even if it doesn't happen, there's still a huge monster about to be unleashed.
Kaiju appearing in Fortnite: Battle Royale has been rumored for more than a year now, and it resurfaces at least once per season when players spot things like dragon eggs or giant footprints. Theories usually indicate something called the "Leviathan" will wreak havoc on the island.
More recently, however, Epic Games has experimented with new technology that would allow every active Fortnite player to damage a single object together. This was essentially how the "Unvaulting" event worked.
Active players were able to enter a portal leading to a subdimensional space that functioned as the Fortnite vault, the place where items removed from active play go. While there, players collectively dealt enough damage to the crystal monument housing the Drum Gun that it was implemented back into play.
In theory, an event battle against an enormous kaiju is absolutely possible using the same functionality. Players across all instances of the game would have to collectively deal enough damage to kill the creature while the kaiju destroyed hordes of players at once.
Whether or not a world boss event such as this is in the works, something drastic is going to happen to the area around Polar Peak very soon, and the Fortnite island may never be the same.
Fortnite: Battle Royale Season 9, Week 4 begins Thursday morning.